We've made 2 areas of improvement in our Opt-in Form system – PopupXpert.
If you use the PopupXpert, or are planning to use our free List Manager to manage your list, this update is important to you.
The 2 areas of improvements are:
1) The Opt-in Form Editor
2) The opt-in form itself
Details below…
1) Opt-in Form Editor
a) Neater Layout
You can take a glimpse at the new PopupXpert here, or just refer to the screenshot below: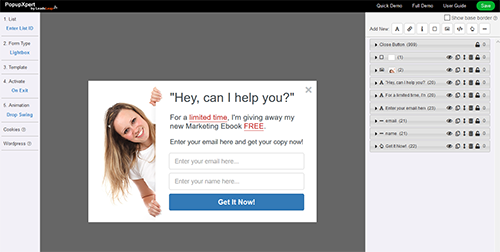 On the left is all the settings. They are labeled in 1, 2, 3, 4, 5, so users are very clear what to do next.
On the right is the 'Photoshop-style' Element Editor. You use it to design the opt-in form.
With the new layout, it is impossible to be lost (well, that's what I hope).
b) Redirect Subscriber to a Custom URL
This is a recent feature request from one member.
He wants to be able to redirect subscriber to another URL after opt-in.
This feature is only valid if you use our List Manager. If you use a third party autoresponder, it should be provided by the service provider.
Below is a screenshot of where you set up the Redirect URL .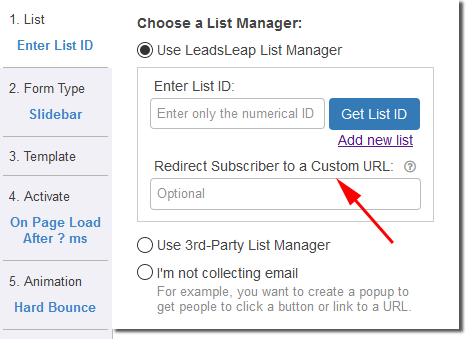 c) New Form Type Added
We added a new form type called 'Screenfill'. This form type is similar to Lightbox, but it has a full page background.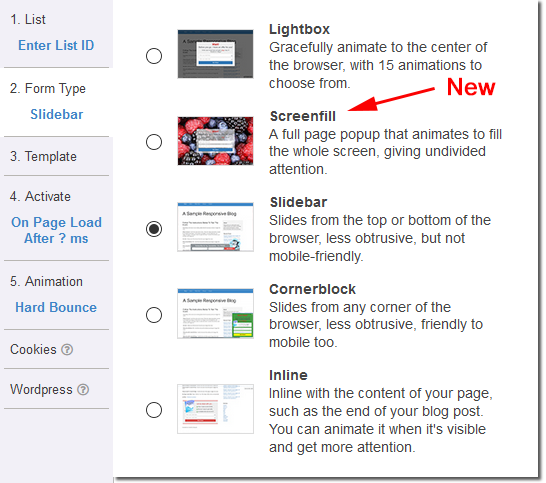 This type of popup is gaining popularity because it takes up the full attention of the audience.
d) Hide/unhide element
In the past, if you want to try different design elements, you can only delete an element and add it back if you regret. That's not efficient.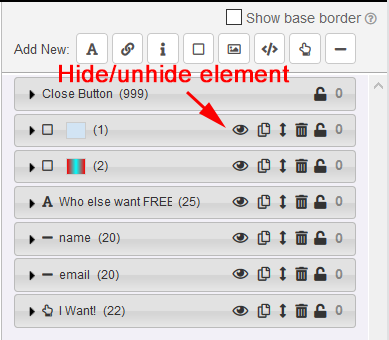 We've also added a 'hide/unhide' toggle to the Element Editor.
Now you can simply hide the element and unhide anytime.
e) Other performance improvement
The last improvement cannot be illustrated by a screenshot. You will have to give it a try to experience the faster and better editor.
2) User experience for the opt-in form
We've added an animation to the input placeholder and submit button.
When a person fills in the field, the placeholder text will shrink to the top.
When the person submits the form, the button will fade and a loading image will be shown.
See the animation in action…
How To Update Your Widget
"Will the animation be shown in my existing widget?"
The answer is No.
To update, you simply have to open your widget in the Editor again and Save.
That's it!
But there is one additional thing you are advisable to do.
Delete the icon in the input field.

The icons were added previously to remind users the purpose of the input field while they type. But with the new animation, the icon no longer serves its purpose.
Give the new PopupXpert a try. Let me have your comments below.
The best is yet to be…