After numerous requests from our members, we finally enable list import in SendSteed list management system.
But there are some restrictions.
1) This is a Pro Member feature.
2) There is an import limit of 500 contacts.
3) Only contacts who have opted-in to your personal list can be imported.
Purchased list, shared list, spam list cannot be imported.
If you have doubt about whether your list can be imported, please contact us.
We need to be careful with this issue because the server reputation is at stake. I appreciate your understanding.
Steps to import your list
1) Go to My List.
Create a new list if you want, or you can import into an existing list.
2) Click the '+' button for the list you want to import into.

3) Read the instruction and tips there. This is important.
4) Follow Step 1, click 'Import Now' and import your list.

(You will have to export your list from your existing autoresponder first, in the format stated in the instruction.)
5) Follow Step 2 to verify the contacts.

That's all.
About verifying the contacts…
To verify the imported contacts, you simply have to send them a broadcast.
When they open your email or click a link in the email, they will be verified.
It is similar to the New Verification Process that we announced 3 weeks ago.
This is really an effective way to verify your contacts.
One member who tested the import system got over 90% of her imported contacts verified on the first broadcast.
This is what she wrote in her feedback: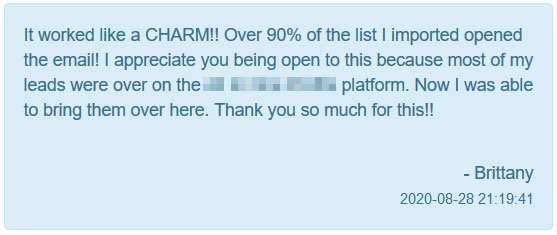 Now you can really say goodbye to those expensive autoresponders. :)