It's been some time since we launched SendSteed autoresponder service. One question that I have been asking myself is
How can I reduce the number of unverified subscribers in your list?
As you know, we adopt double opt-in in SendSteed. It is necessary in order to protect the integrity of our mail server.
But with double opt-in system comes unverified emails.
After much thought, these are the measures we've taken to help you reduce the number of unverified emails.
1) Better Instruction After Optin
When a person opts-in, instead of seeing an alert message like this:

the subscriber will now see this: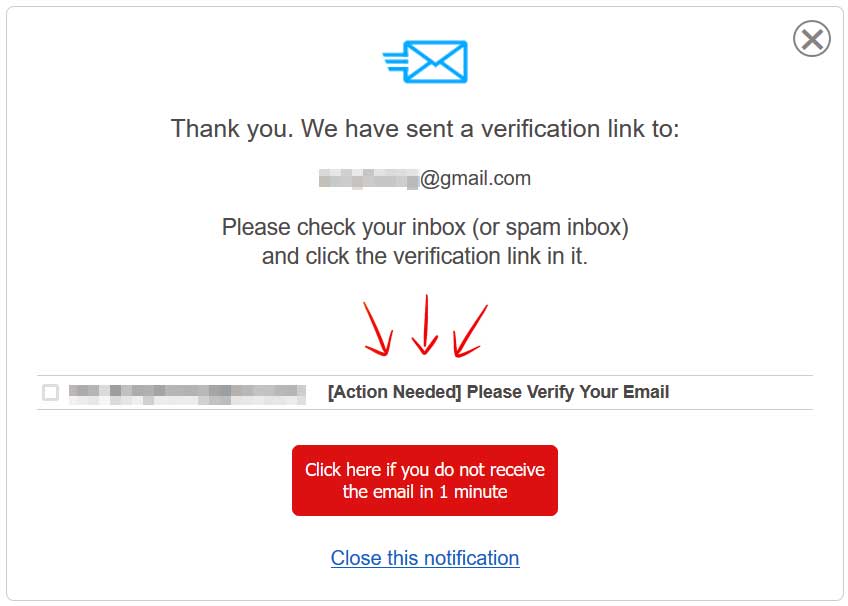 The notification will be customized with your name and the subject of the verification email, just like the way the subscriber will see when he checks his email.
So he knows exactly what to look for.
If he fails to receive the email, he can click the red button to have the verification email resent to the same or a different email address.
2) Verify the subscribers using email broadcast
Another measure I've taken is to create a 'subtle verification process'.
This is how it works.
All you have to do is send a broadcast to the unverified subscribers. (This is a Pro Member feature.)
When the subscribers open the mail or click a link in the mail, their email addresses will become verified automatically!
To send a broadcast to the unverified subscribers, just go to broadcast and set up the email as usual, but under 'Audience', choose Unverified Subscribers.

What kind of broadcast should you sent?
If asking people to opt-in is 'asking for a date', then sending of these broadcasts is 'courting'.
You want to send something of values, perhaps a free gift that they can download. This will invoke a link click, which will get their email address verified. (Note: opening of email will also get their email address verified, but some email apps block in mail tracking, if so, the only way to get them verified is with a link click.)
You can send up to 4 broadcasts to unverified subscribers in a month.
The broadcasts can have the same content, but different subjects. The reason is quite simple. If they have read your previous broadcasts, they would have been verified and should not receive your subsequent broadcasts. The fact that they still receive your broadcast suggests that they didn't open your previous broadcasts. They might have seen the subject but they didn't open the mail. So it makes sense to vary the subject.
3) Set Up Recurring Broadcast
Okay, so now you know that you can verify your list with a broadcast. Are you going to send the broadcast again and again?
Definitely no!
It's a task that can be automated, so it should be automated.
So we introduce 'Recurring Broadcast'. (This is also a Pro Member feature.)
How it works it simple.
When you set up a broadcast, you will see a 'Repeat Broadcast' option (see arrow 1 below, note it's arrow 1, not 2.).

Choose how often you want to repeat the broadcast and the last date of the broadcast. (If you do not enter a last date, the system will automatically set it to 12/12/2099, which basically means forever.)
You'll still set up the Broadcast Time (arrow 2 above). The Broadcast Time determines the first broadcast. Then subsequent broadcasts will be based on the 'Repeat Broadcast' settings.
With this feature, all you have to do is set up some high-value broadcasts, and schedule them to be sent out to the Unverified Subscribers periodically. That's it.
I believe these measures are enough to make sure that anyone who is genuinely interested in what you offer is a verified subscriber in your list.