Today's blog post is for LeadsLeap members. If you are not a member, you can sign up here.
In this post, I'm going to bring you to our back-office and show you some stats about the traffic that we send to you.
Some background
Early this week, we added an extra fraud prevention system that tracks the userid, IP address and number of clicks. This system will tell us which IP address is viewing our members' ads and whether the visitor is a member or non-member.
When we launched the system, I was excited to see what it will return.
I was surprised!
Take a look at the screenshot of the database that recorded the click-through in the first 10 minutes after we launch.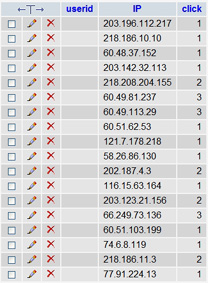 The userid column is blank, meaning none of the clicks is from our own members!
This means our members are getting traffic from non-members, people who happen to come to our website via non-referred links such as the search engine. Frankly, I was pretty excited when I saw this.
This is just the first 10 minutes. After 24 hours, I exported the 24-hour record and separate them into member and non-member clicks.
The result is 64% are member clicks and 36% are non-member clicks. In total, we recorded 4763 clicks on that day.
Why am I showing you all these?
First reason, I'm excited. I can't wait to share this info with you.
Another reason is I want to show you that LeadsLeap is more than just a traffic exchange system. Our members are getting traffic from non-members. 36% is not a small percentage.
How can you channel our traffic to your website?
One way is to become our PRO member. Your PRO ad will be shown in our network all the time 24/7.
Another way is to make sure that you have enough credits in your account so that you FREE ad can be shown in our network. If you are a member, you should have learnt the different ways to earn credits. One smart way is to refer 20 people to join you in LeadsLeap. This will earn you 500 credits every month.
20 people one time = 500 credits every month = endless traffic months after months.
Do the math. It's a good deal.
Monthly bonus credits will be added on the 1st of each month. If you want to quality for the bonus on the 1st of August, you still have about 5 days to reach your 20 referrals. Go for it!