There is an issue with SendSteed that has been bothering us for some time.
We notice that there are opt-ins with only 1 second of surfing duration.
What does that mean?
Either our tracking system is faulty, or those subscribers have their emails ready and they opt in as soon as the opt-in page is loaded.
We have been notifying members with large number of such opt-ins and getting more feedback from them.
One thing that is in common is, they get those subscribers from purchased soloads.
Leads from other sources seldom have such issue.
Our Solution…
Honestly, we have no solution.
There isn't enough evidence to say those opt-ins are fraudulent. But the intention to opt in is questionable.
We will leave the decision to you, since you may be paying for the traffic.
From now on, you can see the Surfing Duration of your subscribers in SendSteed. See screenshot below.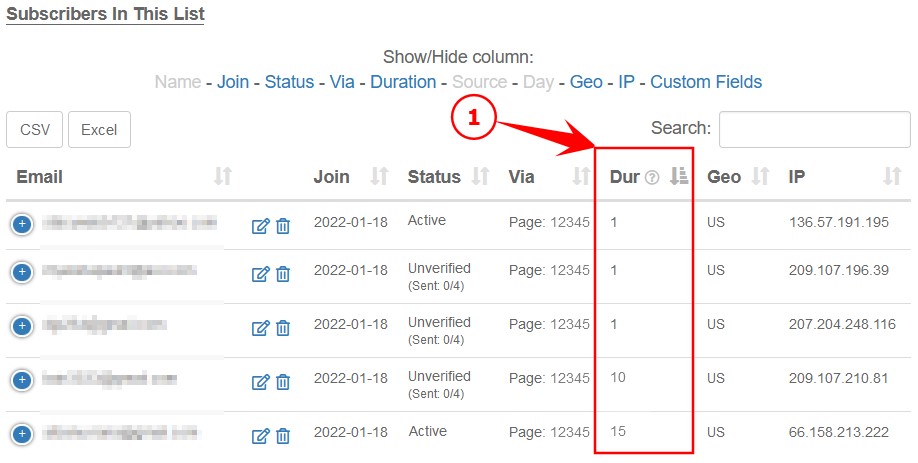 Take the example above, if you see that you are getting a lot of subscribers with 1 second of surfing duration, you decide if you should stop the traffic source.
Limitations
1) Surfing duration is only available for opt-in through hosted Page (using Page Builder) and hosted Form/Popup (using PopupXpert).
If you use raw html form, such tracking is not possible.
2) This is a newly added feature. Old subscribers' surfing durations are not available.
To Conclude…
Your subscribers' surfing durations is an indicator of their seriousness in opting in to your list.
I hope with this data, you can make wiser decisions on your promotion strategies.