This is a feature request from our fellow member, Venkatesh.
Venkatesh promotes a rotator in different traffic exchanges.
The problem is, the rotator contains links that promote those traffic exchanges as well.
In other words, he may end up promoting a particular traffic exchange to the members of the SAME traffic exchange, which is a waste of his effort.
So he approached us and asked if we can add a filter to our rotator such that he can exclude a link from the traffic from certain websites.
I thought this is a good idea, because some of you may face the same issue.
So it is done.
How To Do It?
In the Link Rotator set up page, click the link button (arrow 1).
You will see a new option called 'Exclude Traffic From' (arrow 2). Enter the domain name of the traffic source that you want the rotated link to exclude.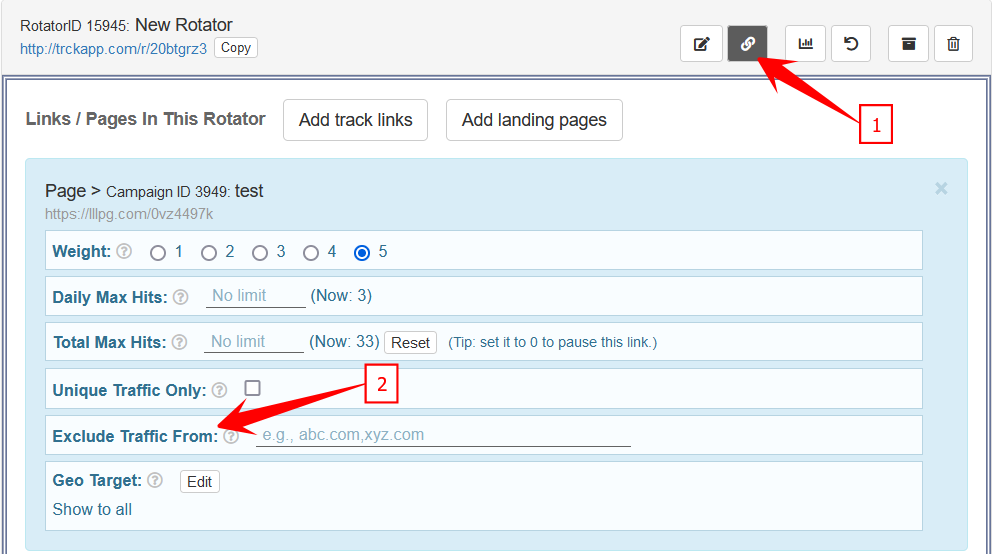 For example, if you do not want the rotated link to be shown in abc.com, enter abc.com. For multiple sites, separate them by comma, for example, abc.com,xyz.com.
Limitation
There is an important limitation of this function you need to know.
If the traffic source runs on https (i.e. the url starts with https), your rotator link must also start with https. Otherwise the rotator is unable to detect the traffic source.
The reverse, however, is okay. That means if the traffic source runs on http, your rotator link can be http or https.
With this new feature, you can now consolidate your affiliate links into one rotator and cross promote the links in different traffic sites, except those you have excluded.