One decision that I made in September 2006 was to embark on the trend of Google Adsense marketing, i.e. building content websites to make money with Adsense.
3 years have past. This month, September 2009, I broke my first $200 a day in my Adsense account. See my account screenshot below: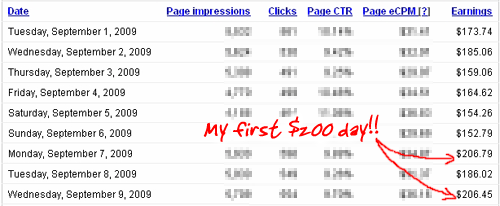 One year ago, in September 2008, I would be happy to see a $100-day Adsense earning. See my September 2008 screenshot below: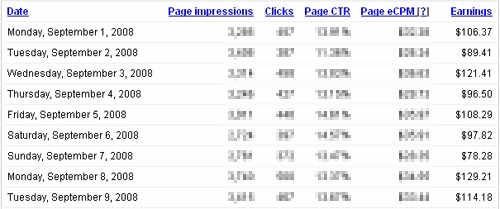 Though I make more money from other online businesses, if you ask me which business is my favourite, I'll tell you it's Adsense marketing!
Here's why I prefer Adsense marketing over all my other online businesses……
1. I don't have to worry about the day-to-day customer support, client support etc. Almost no maintenance required.
2. I can ignore my Adsense sites for months (or perhaps years) if I choose to.
3. The traffic to these Adsense sites seems to increase every month (100% SEO traffic). With my busy schedule everyday, I hardly have time to promote these sites, not to mention adding more contents.
4. Last but not least, my earnings from Adsense marketing seem to keep on increasing months after months, even during one of the worst economic crisis!
With the economy recovering, I have no doubt that one day, Adsense marketing will become my main source of income.
For those of you who are keen to take on the path of Adsense marketing, let me share with you some of my pitfalls and blessings in Adsense marketing.
My Pitfalls In Adsense Marketing
1. Believing that those plug-and-play Adsense marketing programs are better
During the initial months when I started on Adsense marketing, I doubted if my method was correct. I bought into several plug-and-play Adsense marketing programs by those experts in the industry, thinking that they know better.
I wasted a few months and some money in those programs. Since then, I stopped thinking that the grass is greener on the other side!
2. Expecting every site to do equally well
I was lucky to have my first 2 or 3 sites turn out to be successful. But subsequently, I had many sites that were not performing as well as I expected. Being doubtful and ensure, I purchased more books and tried other tactics. That was bad because new tactics slowed down my momentum and those sites built with the new tactics have different layout and are hard to mass-manage now.
Now I am 'immune' to failed sites. Just keep building and keep promoting the same way that I used to do. Some will become a cash cow soon; some may take a year, some may never. I learn to treat my Adsense sites as an integrated business. So long as the total earnings grow, I'm not worried about the performance of individual site.
My Blessings In Adsense Marketing
1) Getting the right article source
Creating content website from scratch is very time consuming. First you have to do keyword research; then you have to write articles before putting articles into a website.
My solution to this chore is to use private label articles, aka PLR articles.
In my Adsense marketing history, I have tried not less than 3 PLR article suppliers. Only one works for me – PLRPRO.
I attribute my Adsense success to the keyword research done by PLRPRO. As the PLR articles are written based on high demand, low competition keywords, all I need to do is to rewrite the articles and optimize for the keywords given. That's a great time-saver for me.
2) Having found two effective link building services
With the number of sites I have on the net, it's very easy for me to test which link building service delivers and which doesn't. I usually test link building services on a massive scale and if a service works, I'll see my Adsense income jumps significantly in the following months.
Two programs that are proven to work are 3waylinks and Linkvana. These two programs have saved a lot of my time in link building.
Let Me Guide You To Success……
For those of you who decide to take on either PLRPRO, 3waylinks or Linkvana services through my referral, email the receipt to support[at]leadsleap.com, with the subject "My PLRPRO Bonus", "My 3waylinks Bonus" or "My Linkvana Bonus".
For PLRPRO and 3waylinks, I'll give you a special report detailing exactly what I do to promote my Adsense sites. For Linkvana, I'll give you a special report on how I 'simplify' the use of Linkvana.
I hope my experience in Adsense Marketing can help you somehow.
Update: Several comments below ask me who many Adsense marketing sites I have. I have slightly more than100. Hardly add more nowadays. But this number should mean nothing to you. The key is if you can make 1 cent, you can make $100. You just need to multiply the effort and 'wait'.