This article explains how our new ad surfing system works. It's quite a read but please do not skip it if you want to get the most out of the system.
The problem with conventional ad viewer…

Most ad viewer systems work like this:
You click an ad and see a timer countdown for 20 seconds. When the time is up, you click another ad, and repeat the process…
There are some limitations with such a system:
Once the time is up, most people will move to the next ad to earn more credits, since they are not incentivized to continue surfing.
Many visitors spend time keeping track of the timer instead of surfing the ad.
There must be a better way to do it…
I want to create a system where members really check out an ad, click around to explore more, opt in if they like, and earn credits while doing all that.
I don't want members to be a timer watcher. They should surf freely and earn credits continuously while surfing.
It took me months to think and test. Finally, I believe I've got it!
Introducing the 'truly' Earn-As-You-Surf system…
In this new system, you will earn credits every 5 seconds for up to 1 minute per ad.
The first 5 seconds will earn you 0.2 credit. Thereafter you will earn 0.02 credit every 5 seconds for up to 1 minute.
If you find an ad interesting, continue to surf and click around. Go to the FAQ page or the About Us page if you want. As long as you stay in our proprietary ad viewer (you will know when you are), you will be credited continuously.
About our ad viewer…

When you click an ad, you will see our special ad viewer like the screenshot below.
Our ad viewer consists of 2 sections.
The left panel is the control panel.
The right panel is advertised site, which will open in a popup window.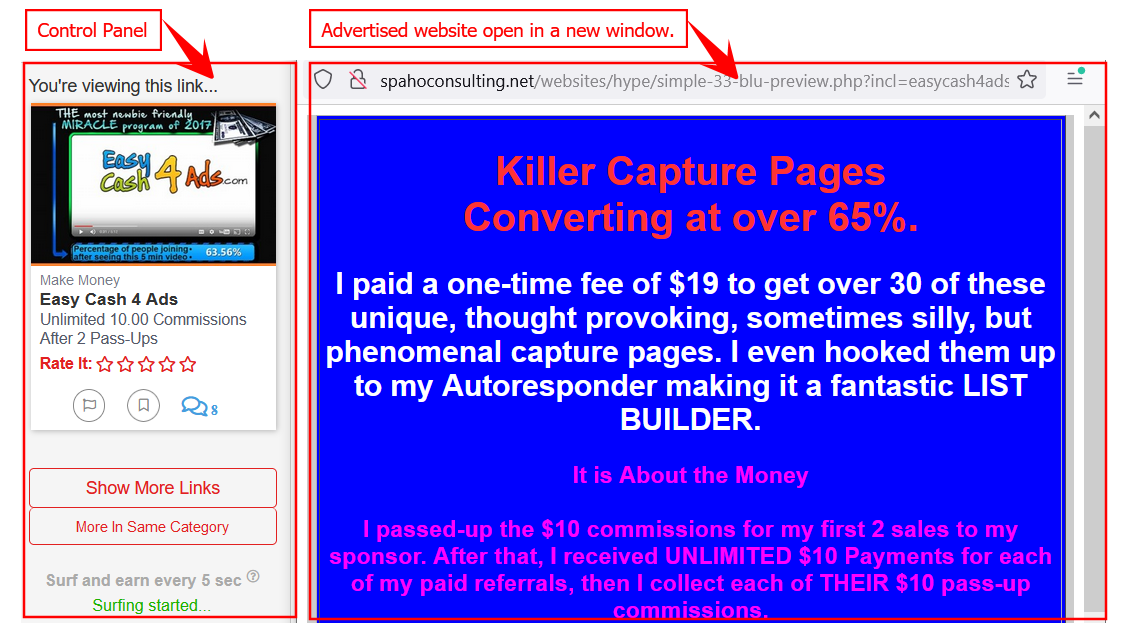 Why ad opens in a popup window?
Most ad systems show ads inside an iframe. But our system show ads in a popup window.
There are 2 reasons why we do that:
Many websites, including Youtube and Facebook, forbid iframe. By showing ads in a popup, almost all websites are compatible with our ad system.
Most advertisers are affiliates. Affiliate links may not work in an iframe. But we are pretty sure all affiliate links work in a popup. (Read the death of link cloaking for more details.)
Control panel explained…
Below is an overview of the functions in the control panel.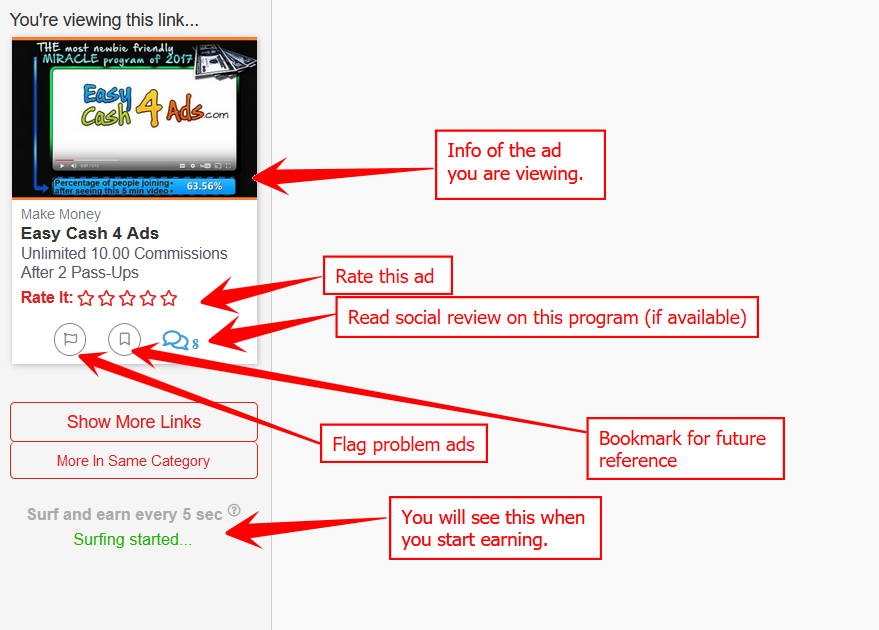 It starts with the info about the ad you're viewing, followed by an option to rate the ad.
You can also read social reviews on the program, flag problem ad and bookmark the link for future reference.
Rating an ad will earn you 0.1 credit.
Flagging a problem ad will earn you 1 credit, if the problem is verified.
How to know if you are credited for surfing?
There is no timer in our ad system.
How do you know you are credited?
After 5 seconds of surfing, you will see 'Surfing started' (see the green text in the screenshot above).
That means you've earned your first 5 seconds of surfing.
If the ad is interesting, continue to explore it further. You will continue to earn credit every 5 seconds.
Please note that you must be really viewing the ad to be credited. If you go to another browser tab or multitask on your computer, you will not be credited.
If the ad is boring, just close it or visit another ad.
I believe this new system is the way to go in the future.
It is compatible with most websites.
It is compatible with most affiliate tracking systems.
It encourages visitors to really surf a site, rather than becoming a timer watcher.
Visitors are incentivized to continue surfing, instead of being chased to the next ad after the 10- or 20-second timer is up.
It leverages on the social effort to help keep up the ad standard in the network.