This article explains how our new ad surfing system works. It's a quick read, please do not skip it if you want to get the most out of the system.
You may have come across some ad viewing system that works like this:
You click an ad, and wait for 20 seconds. When the time is up, you click another ad. Then you rinse and repeat…
There are some limitations:
1) Once the time is up and you get the credit, will you continue exploring the ad, or will you move on to the next ad to earn more credits?
2) If you continue to explore the ad because it looks interesting, you are not compensated for your time. That is kind of unfair.
3) Some systems use a timer to tell the visitor whether the minimum viewing time has reached. That is a bad idea because visitors are more likely to keep checking the timer rather than reading the ad.
There must be a better way to do it…
I want to create a system where members are motivated to really check out an ad, click around to explore more, opt in if they like, and earn credits while doing all that.
I don't want members to be a clock watcher. They should surf freely and have confidence that they are earning credits while they surf.
It took me months to think and test. Finally, I believe I've got it!
Introducing the 'truly' Earn-As-You-Surf system…
In this new system, you will earn credits every 5 seconds for up to 1 minute per ad.
The first 5 seconds will earn you 0.2 credit. Thereafter you will earn 0.02 credit every 5 seconds for up to 1 minute.
If you find an ad interesting, just continue to read and click around. Go to the FAQ page or the About Us page if you want. As long as you stay in our proprietary ad viewer (you will know when you are), you will be credited continuously.
How to know if you are credited?
When you click a link, the link will open in our special ad viewer.
At the top left corner, you will see info about the ad you're viewing. You can also rate the ad, visit the original site or report the ad.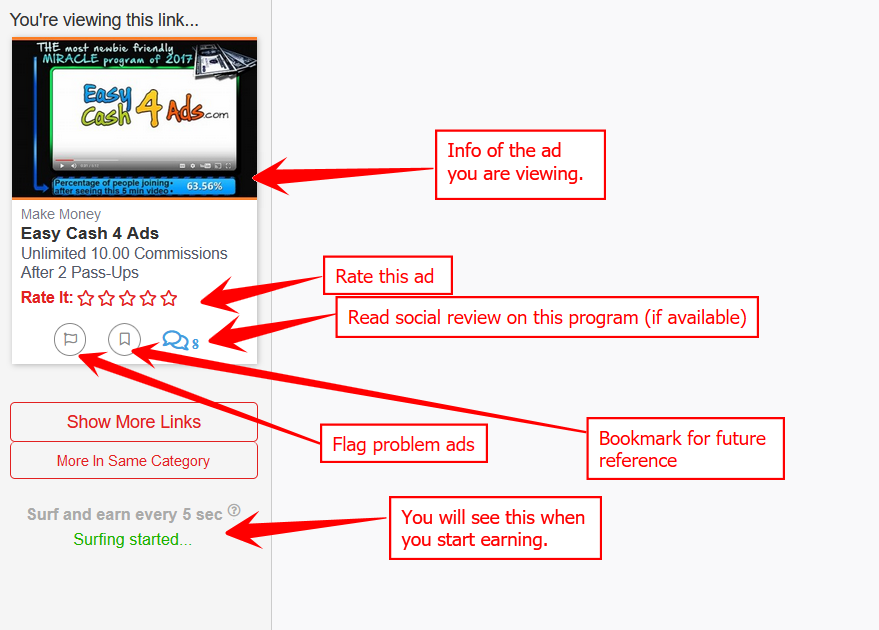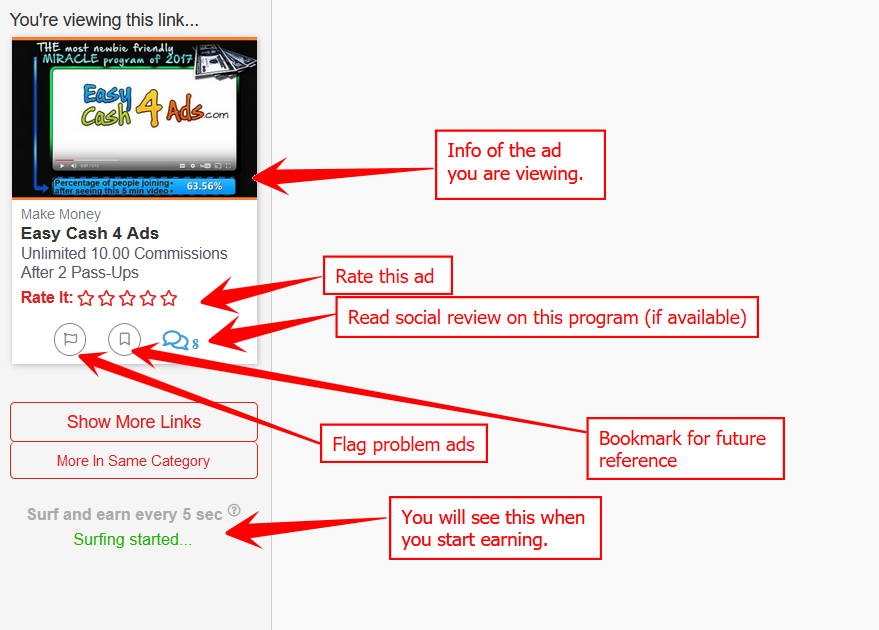 After 5 seconds, you will see a message 'Surfing in progress' (see the 3rd arrow in the screenshot above).
That is when you've earned your first 5 seconds of surfing.
If the ad is interesting, continue to explore it further. You will continue to earn credit every 5 seconds.
Please note that you must be really viewing the ad to be credited. If you go to another browser tab or multitask on your computer, you will not be credited.
If the ad is boring, just close it or visit another ad.
What should you take note as an advertiser?
Let's now look at how the new system works from an advertiser's point of view.
When someone surfs your Credit Ad, 1 credit will be deducted from your credits. In other words, every credit of yours will get you 1 visitor.
Earn credit reporting problem ads

The new ad viewer also has a reporting feature. To report an ad, just click 'Report it' (see the second arrow in the image above).
Although we review every ad in the system at the time of submission, there is still a possibility that some sites may be down or some content may be changed along the way.
For such changes, we relay on you to report to us. To encourage members to report problem, members will earn 1 credit if the report is true.
Please note that the credit will only be added upon verification by our admin, NOT when you report it.
So if you report a problem ad, but the issue is resolved when we investigate into it, it will be considered a false alarm. In such case, no credit will be added.
Earn credit rating the ads

Another feature is ad rating (see the second arrow in the image above).
It has always been my objective to help members to differentiate good ads from the rest. I have been doing that by adding features like offer icons (to differentiate free gift and content based ads from other ads) and showing total and weekly hits (so you know how popular and experienced the advertiser is). But still, I feel that they are not enough.
Hence we added the ad rating system.
I understand that it is hard to determine if an offer is good or bad in just a few seconds of visit. But you can easily rank the ad based on how interesting the ad is.
If an ad is very interesting, rate it 5 stars. If it is a junk ad, give it 1 star. 1 star is not a compliment. It is actually a down vote. The 3-month average rating will be shown together with the ad. We show the 3-month average to make sure that the ratings are current.
To encourage members to vote, members will earn 0.1 credit for rating an ad.
I believe this new system is the way to go as it encourages members to explore an ad in detail, rather than chases them away for the next ad. It also leverages on the social effort to help keep up the ad standard in the network.
I really like the new system. I hope you will like it too. Give it a try and let me know what you think.