Today, we are proud to present to you – LeadsLeap 3.0.
Many things have been changed.
I will highlight the important changes.
1) Re-organized navigation in the Member Area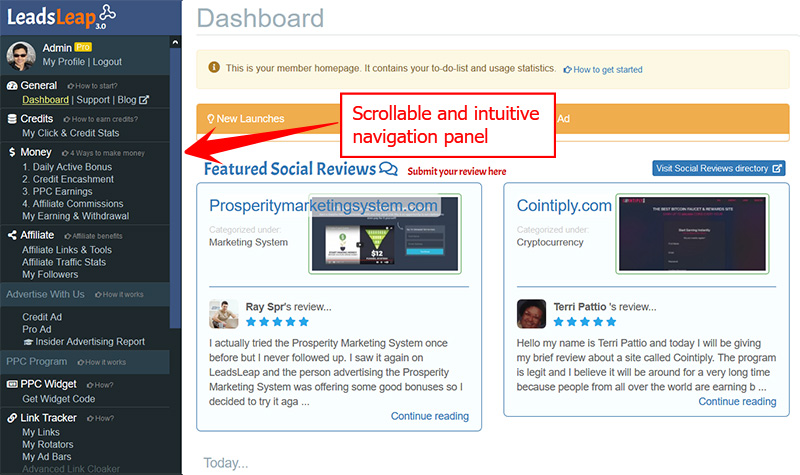 To keep things more organized, we've re-organized the navigation links.
We've also made the navigation panel scrollable independently and intuitively auto-scroll the current link to the middle.
Say if you are managing your link trackers, there is no need to keep on scrolling to toggle among links, ad bar and rotator.
Just try navigating. I'm sure you'll find it more user-friendly than before.
2) Changes In Terminology
Some terminologies have been changed.
Daily earning > Daily Active Bonus
Weekly earning > PPC Earnings
Reason: Daily & weekly earnings sounds confusing. Earnings are now named after the "purpose".
Downline > Followers
Upline > Associates
Reason: Upline & downline are terms associated with MLM or Matrix program. Since we are not MLM nor Matrix, we should use other terms to avoid misunderstanding.
3) Changes In Downline Message Format

The old Downline Message has an ad-looking format.
The new (renamed) Follower Message is dialogue-looking.
Our aim is to make Follower Message more personal. It is the way to build a long-term relationship with your followers.
4) New Ad Viewer
The new ad viewer looks like this: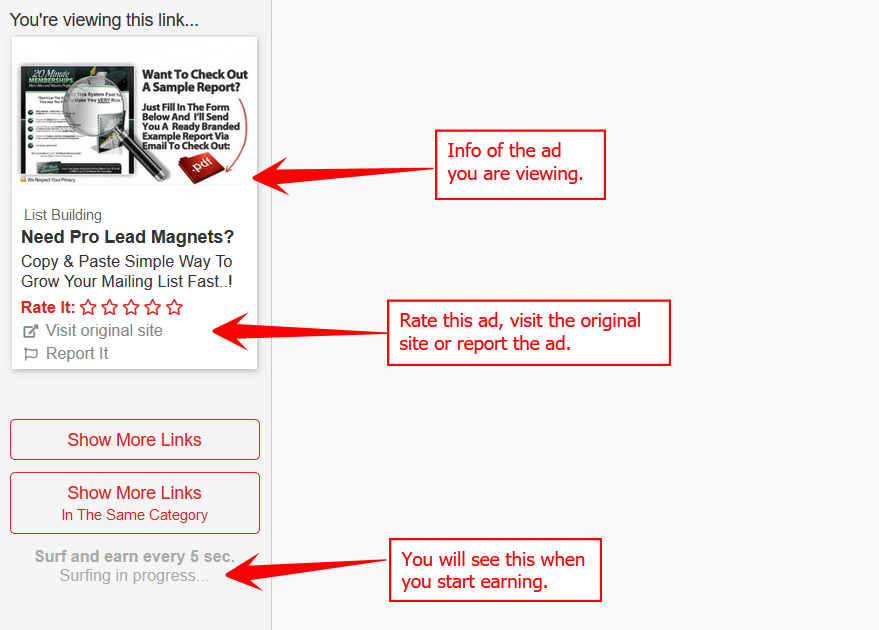 There is a panel at the left showing the ad that was clicked. It serves as a reminder for the visitors, so that they know what to look for when they surf the page.
The links to rate the ad and report problem ads are also found in the same panel.
Note: In LeadsLeap 3.0, members will earn 1 credit when they report problem ads.

The credit is added upon verification. If it is a false alarm, no credit will be added. Some ad issues may be temporary. If you've reported an ad but the issue has already been resolved when we review the report, it will be considered a false alarm. No credit will be awarded in such case.

Why don't we just reward any ad report? Because if we do so, there will be people who report any and every ad!
How do you know if you're credited?
In the new Ad Viewer, you will know that you've started earning credit when you see 'Surfing in progress'.
If there are issues with the ad you're viewing, you will see the issue instead of 'Surfing in progress'. This gives you better clarity on whether you are being credited.
Some issues you may see include 'You are revisiting this link', 'Avoid clicking ads after ads', 'Your account has been flagged', 'Unusual activity detected'.
How to view more ads?
To view more ads, you can click either 'Show More Links' or 'Show More Links In The Same Category'.
5) Face Lift In The Real Tracker
Many changes have been made in The Real Tracker.
5.1) Dedicated domain for The Real Tracker
To make your tracked link more professional, we have prepared a dedicated domain for The Real Tracker.
Tracked links will now be shown as
trckapp.com/d5jwc3k
instead of
trackr.leadsleap.com/d5jwc3k
You don't have to do anything. Old tracking links will automatically be redirected to trckapp.com.
Just remember to use the new tracker url in your future posting.
5.2) New ad format
If you've enabled 'Monetize' option in your tracker, you know that ads will be shown and you will make money in our PPC program when people click the ads.
In the old system, the ads are served in a popup. It is a little too subtle.
To increase the clickthrough rate and hence your PPC earnings, we've redesigned the ad format.
Ads will now be served according to the orientation of the browser.
If the browser is landscape, ads will be shown in a left bar.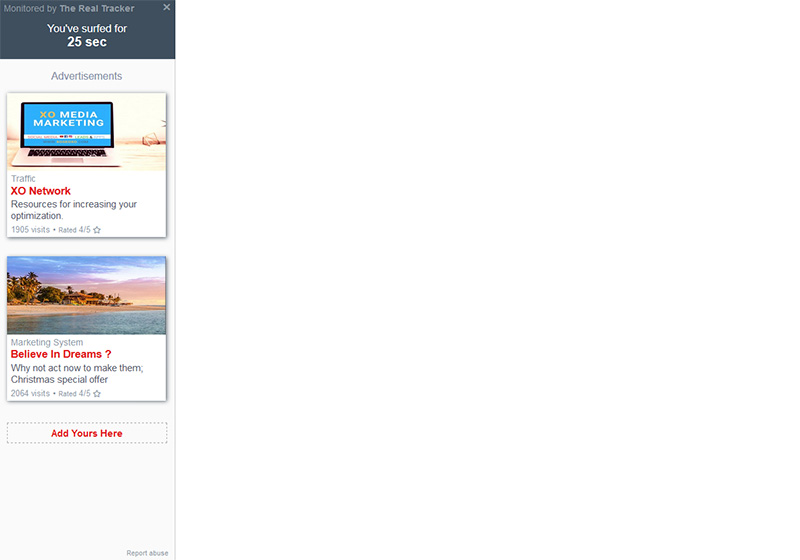 If the browser is portrait, ads will be shown in a footer bar.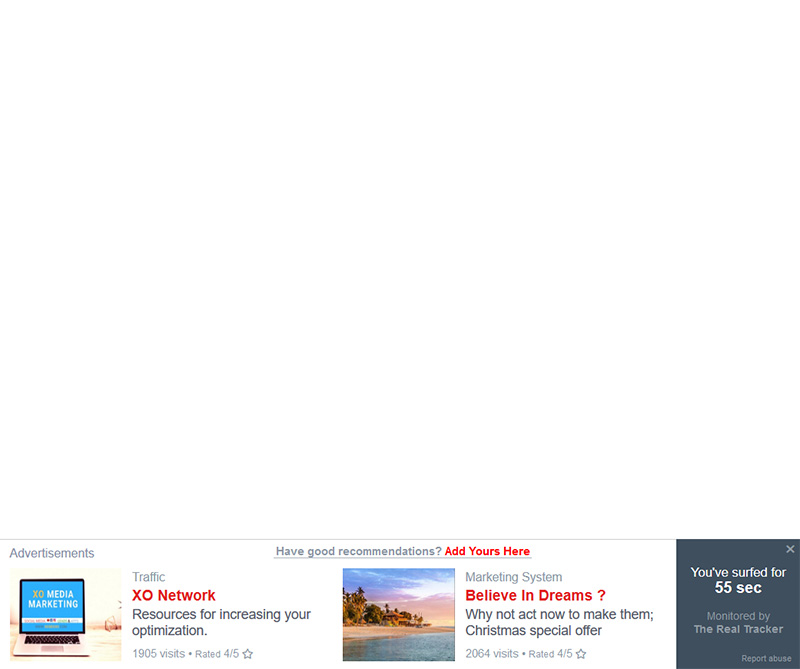 The idea is to minimize the blocking of your content by showing ads in the 'extra' space of the browser.
We will monitor the clickthrough rate of this new format. If it is good, we will keep it. If it is bad, we will ditch it. I'll keep you updated.
Update: To our surprise, the new ad format hasn't resulted in significant increase in click-through. Since that is the case, we have reverted back to the subtle method of showing the ads in a small popup, so that your visitors will have full attention on your link.
Below is how it looks like now. The ad will not be shown immediately.
You can decide when you want the ad to show, say 20 seconds or 45 seconds after page load.
You can also decide whether you want to place the ad at the bottom left or bottom right.
5.3 Other changes
For the other changes, I will just list them here for now.
But that doesn't mean they are minor changes.
Some of them are powerful features that I will explain further in another blog post. For now, I just want to give you a quick overview.
Teaser is now html enabled. You can now add more fanciful teasers.
You can now insert popup into your tracker! This means you can now build list while promoting affiliate links.
If your tracked link has responsive web design, you can turn on 'Responsive Mode', so that your tracked link will look nicer on mobile devices.
You have a choice of whether to make the footer ad collapsible.
You can now change the color of the Ad Bar.
Ad Bar count down timer design has been changed.
For link rotator, you can now set a daily and total limit to the rotated links.
For now, let's end the update here because I don't want to overwhelm you.
Take a look at the new system. Let me know what you think.