For a year, we have been testing our 'Direct View Mode' ad viewer system.
If you have been surfing ads, you should be familiar with this system.
With the recent change in the cookie standard as explained in my other post "The Dealth Of Link Cloaking", it is time to make the switch.
What Is 'Direct View Mode'?
Instead of showing ads inside our on-site ad viewer, the ad is shown in a new window, yet you can still interact with the ad viewer panel, like before.
You can rate ad, read social review etc, as if the ad is not in a separate window!
When you are done surfing the ad, just close the ad window and choose the next ad to surf.
See the demo below.
Paying attention to how I rate the ad and read social review.
You can hardly tell that the ad is in a separate window, right?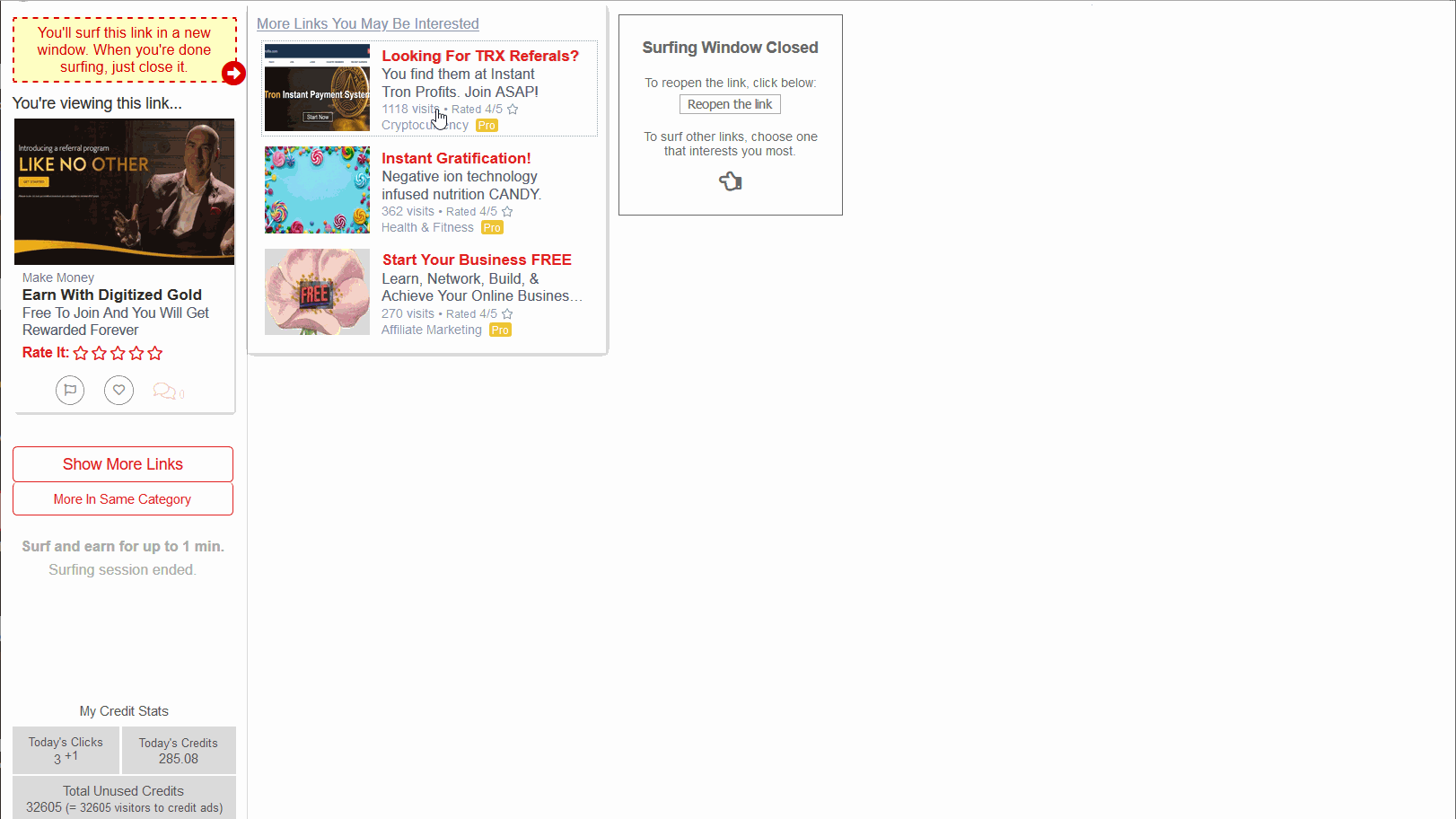 Your surfing experience should be very close to your previous experience.
Advantages Of 'Direct View Mode'
1) Zero website incompatibility issue.
No more issue of x-frame, frame breaker and now cookie.
2) You can really surf any how.
Since the ad is now in its own window, you can navigate, opt-in, make purchase or do anything you want with it. No need to worry about breaking the ad viewing system.
3) More mobile friendly
Our previous ad viewer was basically not mobile friendly. It couldn't be, due to all the functions. Try viewing an ad in your mobile browser now. ;)
Limitation Of 'Direct View Mode'
1) Popup Blocker
You will have to allow popup for LeadsLeap.com. This is a one time effort.
2) Detailed Tracking Is Not Possible
Previously we can track everything, even the way the mouse move. But it is not possible now.
Surfing duration is calculated based on the time when the ad window is open.
How We Overcome The Limitation
Although I expect most members to surf with honesty and integrity, I still have to prepare the system for 'opportunists'.
The biggest limitation of 'Direct View Mode' is that someone can open an ad and leave it there for minutes. Since it is not possible to do detailed tracking, the system can only assume that the person is surfing the ad and will continue to credit the person.
If it is your ad, you will jump.
Why?
Because with a creditable surfing duration of 3 minutes, if it is your ad, it will cost you 14.4 credits for that 1 visit!
If we were to fully implement 'Direct View Mode', this limitation must be resolved. Otherwise many members will frown.
Our resolution is…
With immediate effect,
the cost of 1 visit to your credit ad is simply 1 credit!
Yes, you hear me right.
No more spike in your credit usage.
I don't want you to feel upset over sudden loss of credits.
It's a hard decision. Previously, 1 visit will consume 1.4 credits on average. Now that we fix 1 credit to 1 visit, our burden has actually increased.
Change In Credit Earning
Since we equate credit to visit, credit earning has to be adjusted too.
Below is the new credit earning breakdown:
First 5 seconds of surfing, you earn 0.2 credit (as before)
Subsequently, for every 5 seconds of surfing, you earn 0.02 credit (previously was 0.1 credit)
You can be credited for up to 1 minute (previously was 3 minutes)
Ad rating will earn you 0.1 credit (as before)
You can see that in the new ad reward plan, we have reduced the creditable surfing duration from 3 minutes to 1 minute. Based on our stats, most people don't surf that long. The average surfing duration is 22 seconds. 1 minute is more than enough for most people, yet it can deter opportunists from exploiting the system.
Another change is the subsequent earning after 5 seconds. It is reduced from 0.1 credit to 0.02 credit. It can still serve as an incentive for members to continue to surf an ad, yet it is not lucrative enough for opportunists to take advantage of it.
Last but most importantly, this new reward plan allows us to limit your advertising cost to just 1 credit per visit, down from 14.4 credits!
Why LeadsLeap Credit Is So Little?
Occasionally I have members asking me why LeadsLeap gives so little credits, while other programs can give 10 credits, 20 credits.
Now, let me ask you. Would you rather have 1 US Dollar or 100 Guyanaese Dollar?
Credit is like Dollar. It is what the credit can get you that matters. Our credit can bring traffic to your website and earn you money.
Companies that give a lot of credits eventually have ways to consume those credits. They may not translate into real traffic and money for you.
In traffic exchange, what you can compare is the Free:Paid ad ratio.
We strive to keep our ad ratio at 1:2. This means for every 3 ad visits, you get 1 visit back to your free ad. The other 2 visits go to paid ads. That's how we make money (and share that money with you).
But we are talking about 'average'.
If you look at the earning breakdown above, the maximum credit you can earn from 1 visit is 0.52.
Two ad visits could have earned you 1 credit.
And 1 credit now = 1 visit back to your website.
It's a good deal for free traffic and free money, isn't it?
That's all for the new ad and reward system. I'm sure some of you will cheer, but some will hate.
I just hope that you can trust me. Whatever changes we make is for the benefit of most members and for the sustainability of the system.