SendSteed Tags are short keywords or phrases you can add to your contacts.
The purpose is twofold:
To differentiate the contacts.
To allow you to send a broadcast based on Tags.
Below is a possible scenario:
You call a few contacts in your list. After calling, you add a tag "called" to the contacts.
For those who buy, you add an additional tag "buyers".
With these tags, you now know whom you've called and who has bought. You also can send a broadcast to all the "buyers" for example.
There are only 2 new operations you need to know.
How to add one or more tags to a contact.
How to send a broadcast based on tags.
Step by step instructions below…
How to add Tags to a contact?
1) Go to the List Manager and locate the contact you want to add.
2) Click the edit button next to the contact (arrow 1).

3) Enter the tag you want to add in (arrow 2).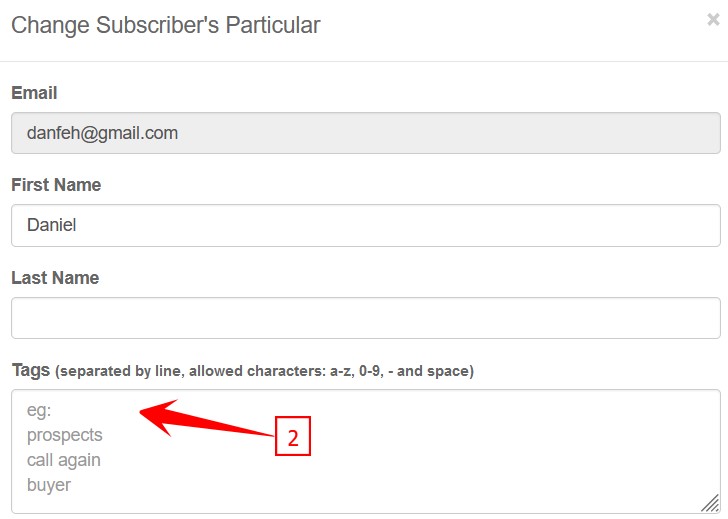 You can enter a short phrase, such as buyer, interested, called on 12-4-2022, etc.
You can use alphanumeric, space and dash.
You can add multiple tags. Just separate them by line.
For example, you can add tags like this:
called on 12-4-2022
interested
call again on 15-4-2022
How to send a broadcast based on Tags?
1) Go to Broadcasts.
2) Set up a broadcast as usual.
3) Under the 'Audience' setting, you will see a new option as follows:
4) Enter the tag(s) you want to target.
For multiple tags, just separate the tags by comma, like this:

That's it.
Take the above illustration as an example, the broadcast will be sent to all active subscribers with either 'interested', 'follow up' or 'called' as the tag.