Some website builders either do not support or charge a premium for those who want to add Javascript. An example is WIX.
As a result, some members cannot use SendSteed to build list, since the only way to add an opt-in Form was via Javascript.
We feel your pain.
Now you can generate traditional HTML form code.
Generating HTML form code is easy.
1) Create a new campaign in My Opt-in Forms.
2) Click Launch Editor.
3) In the PopupXpert, under Form Type, select 'HTML Form'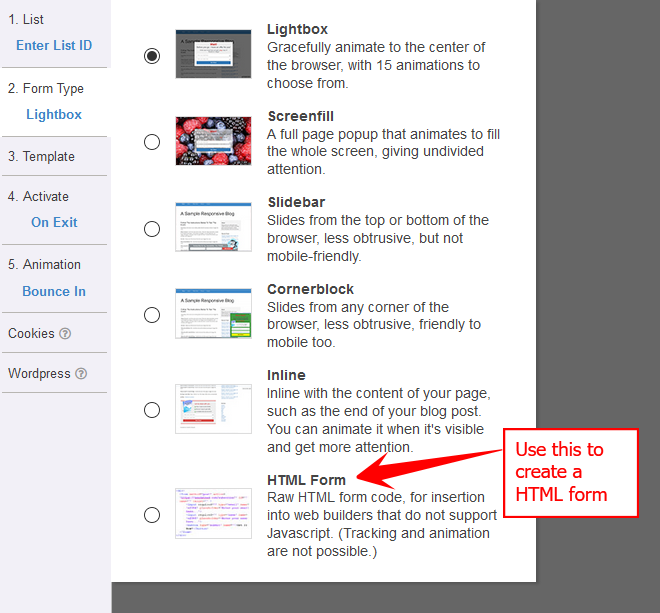 4) Proceed to design your form as usual. Save when done.
5) Go back to My Opt-in Forms, you will see something like this:

Click 'Get Form Code' to get the HTML form code.
That's it!
Please note that unlike the Javascript code, this HTML Form code doesn't support tracking and animation.
If your web builder supports Javascript, you should use the Javascript code instead.
Another New Feature
Besides enabling HTML Form code, we have also added another feature to SendSteed.
You can now redirect your subscribers to another website after they have verified their email.
To set it up, just go to My Lists. (Refer to the screenshot below.)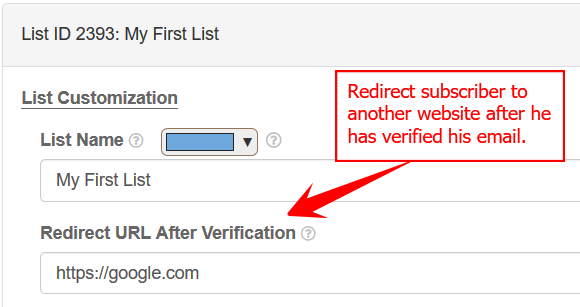 This Redirect feature should not be confused with the Redirect feature in PopupXpert. (See screenshot below.)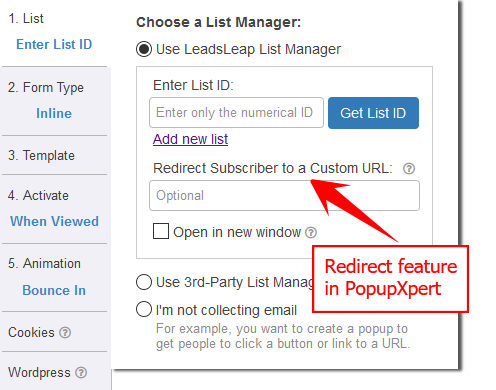 The redirect feature in PopupXpert is to redirect subscribers to another URL immediately AFTER opt-in, BEFORE email verification.
The redirect feature in My List is to redirect subscribers AFTER email verification .
Which is better?
I feel that it is better to set up redirect AFTER email verification.
If you show the subscribers an offer AFTER opt-in but BEFORE email verification, they may forget to verify their email, or they may not be in the mood to see an offer as they prefer to verify their email first.
There has been quite a number of updates and changes to SendSteed and PopupXpert as we try to fulfill members' requests. Please bear with me.
We are changing for the better.