We have released a long-awaited tool today.
It's called Funnel Manager.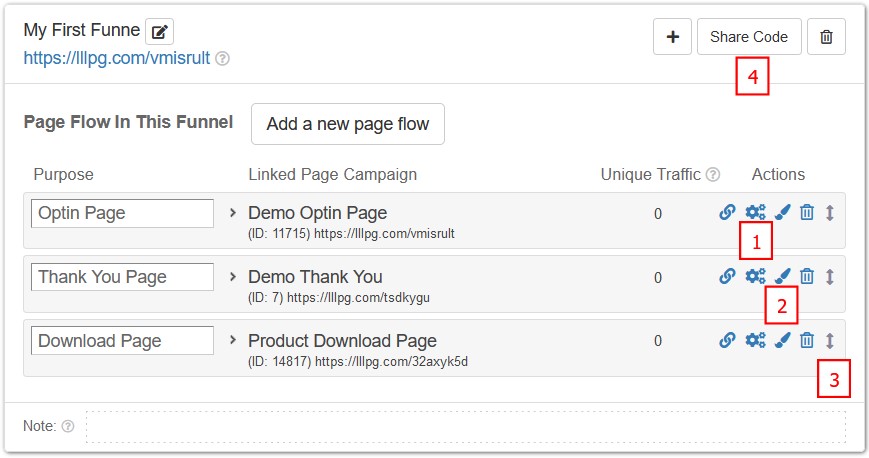 What Can Funnel Manager Do?
Organize Your Pages
Create Your Marketing Funnel
Share Your Marketing Funnel
1. Organize Your Pages
You should already know that you can create almost any kind of pages using our Page Builder.
If you have created many pages to promote different products, your Page Manger can really be cluttered.
With the new Funnel Manager, you can organize the different pages into a funnel.
Say to promote Product X, you have created
– an opt-in page,
– a thank you page,
– a product delivery page.
You can add them into a Funnel call ' Product X Funnel'.
Similarly, you can have Product Y Funnel, Product Z Funnel, and so on.
2. Create Your Marketing Funnel
With the Funnel Manager, you can design your own Marketing Funnel or import the entire Marketing Funnel if you are given a Share Code.
I will show you how the Funnel Manager works soon.
3. Share Your Marketing Funnel
You can share your entire funnel, i.e. all the associated landing pages and popups, with other people, using a 'Share Code'
They can then duplicate your entire Marketing Funnel.
Team leaders will love it.
How It Works?
To illustrate how it works, it's easier to use an example.
Let's say you have created using Page Manager
– an Opt-in Page,
– a Thank You Page, and
– a Product Download Page.
To organize these pages in a funnel, go to Funnel Manager and take the following steps:
1) Click "Add a new Funnel" (at the top of the page) and follow the instruction to create a new funnel.
2) Click "Add a new page flow" (in the funnel that is newly created).
(A Page Flow is simply a container that connects to a Page Campaign in the Page Manager. As the name suggests, it facilitates the planning of the flow of your pages.)
After a page flow has been added, you will see something similar to the screenshot below:

3) Click (arrow 1) to link the newly created Page Flow to your Opt-in Page.
4) Enter 'Optin Page' as the Purpose (arrow 2).
5) Repeat step 2 to 4 for the Thank You Page and Product Download Page.
You now have a funnel with 3 page flows as shown below: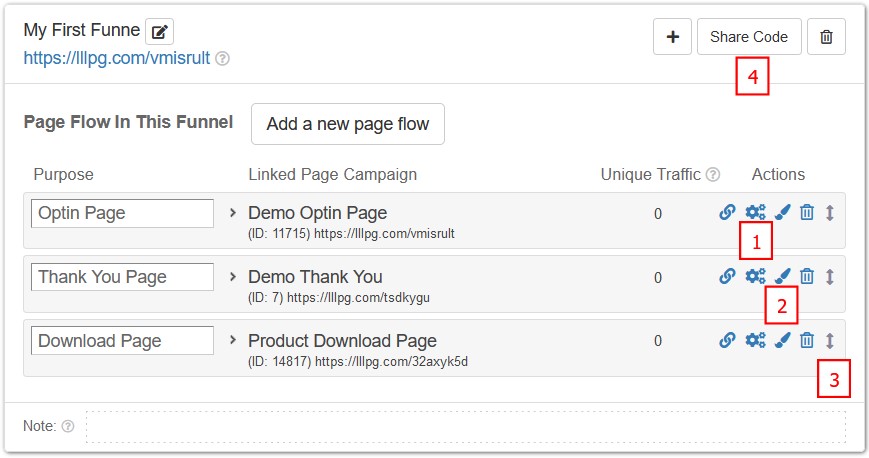 To edit the linked Page in the Page Manager, click button 1.
If your funnel is very complicated, you can use color to differentiate the page flows. To change the page flow color, click button 2.
To sort the order of the Page Flow, drag button 3. This will be useful if you use this Funnel Manager to plan and strategies, before linking them to a Page.
Viewing Full Traffic Stats
In the Funnel Manager, you can only see the Unique Visitor stats. (Showing the full traffic stats in the Funnel Manager will make the interface look very cluttered.)
If you want to view the full traffic stat, click this icon (button 1) in ANY of the Page Flows.

This will bring you to the Page Manager, showing ONLY the pages in this funnel, sorted in the same order as the Page Flow.
With that, you can view the full traffic stats and also edit the different pages in this funnel.
Give it a try to see what I mean.
Share Your Funnel With Others
If you are a team leader, or you want to build a list by giving away your own Marketing Funnel, you can share your entire Marketing Funnel using a Share Code.
To do that, click 'Share Code' (button 4) and share the code with anyone.

The receivers just have to click '+' (button 5) and enter your Share Code.
The Share Code will recreate EVERYTHING in your funnel in the receivers' account.