If you are a blogger, you will like this…
Imagine whenever you publish a new blog post, an email broadcast will automatically be sent to your lists.
The email will automatically include a snippet of your blog post and a hyperlink to the post.
Of course, you can customize the email template with any extra message you like.
This is how the email template can look like: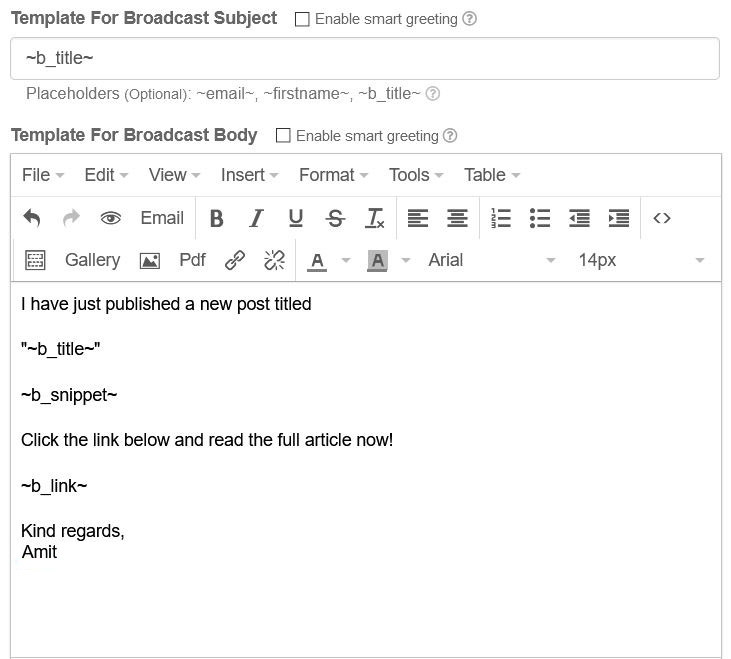 With the above template, the auto-generated email broadcast will be like this: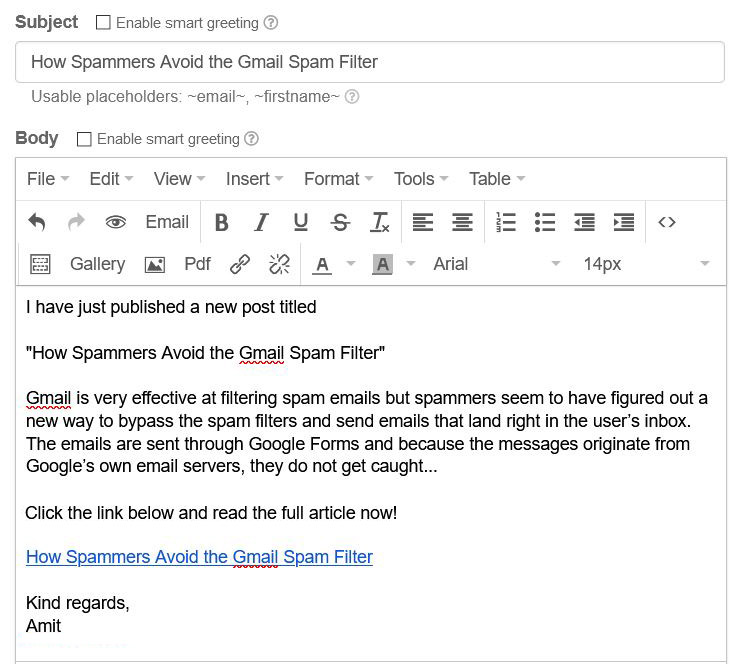 Which Blogging Platforms Does It Work?
This system works for WordPress, Weebly and Blogspot.
How Does It Work?
WordPress and Blogspot come with RSS Feed.
For WordPress, it looks something like this:
https://yourblog.com/feed
For Blogspot, it looks something like this:
https://username.blogspot.com/feeds/posts/default/
You simply have to go to SendSteed List Manager > Blog To Broadcast, then
1) add the RSS feed,
2) customise the email template,
3) select the list that you want to send to.
That's all!
Our system will automatically check the availability of any new post on your blog, create a new broadcast based on your settings, and send it to the Active Subscribers of your selected lists.
How Soon Will My New Post Be Broadcasted?
The system starts checking for new post at the 30th minute of every hour. If a new post is available, a broadcast will be created and sent automatically in the next hour.
Say if you publish a blog post at 1:20pm, your post will be picked up by the system between 1:30pm and 1:50pm and broadcasted to your preselected list automatically at 2pm.
But if you publish a blog post at 1:40pm, you will have missed the 30th minute cut off. The system will then pick up your article between 2:30pm and 2:50pm and broadcast it at 3pm.
Manual 'Run' Option
Instead of waiting for the system to detect your post, you can also manually run the detection.
Once you publish a new blog, just to go Blog To Broadcast and run the Feed manually.

A broadcast will be created immediately and posted in the next broadcast hour.
How To Test If Your Blog To Broadcast Works?
After you have set up the RSS feed and email template, you can run the Feed manually as illustrated above.
The system will create a broadcast based on the last post in your blog.
You can then check the broadcast and see if it is what you expect. (But remember to save that broadcast as Draft, otherwise it will be sent to your list!)
Coming Up Next…
Coming up soon is Youtube To Broadcast. It is a similar feature but for Youtube. Stay tuned for our update!