We've just finished another round of updates on SendSteed.
The main purpose of this update is to address the following issue:
When members share their Email Series with others, the Welcome Email is not shared. This means members have to separately share or teach their leads how to set up the Welcome Email. This is troublesome.
The solution…
1) Welcome Email is now equated to Day 0 email episode
If you look at the Email Series manager now, you will see a Day 0 email episode being automatically added.
That is the same as the Welcome Email.
Previously, you set up the Welcome Email at the List Manager, by clicking the button shown below:

Now you can set up the Welcome Email either through the Email Series page or the above section. Both will yield the same result.
2) Email Series Share Code Now Includes Welcome Email
We have made a minor change to the Email Series Share Code, by adding an extra 'u' to the back.
For example, if the old Share Code is bxWzNV, the new Share Code will be bxWzNVu.
If you give the new Share Code to others, they will have the option to import your Welcome Email into their list.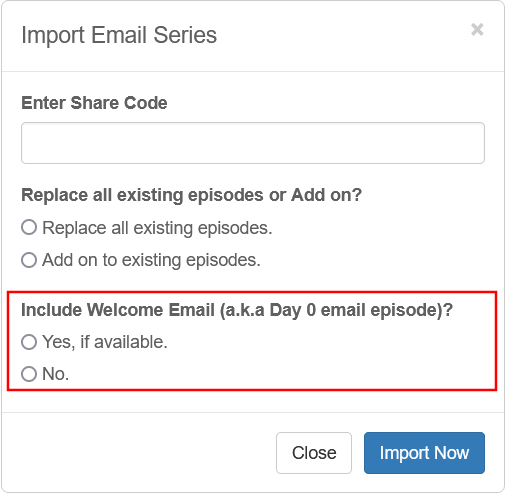 "Kenneth, what about the old Share Code I've shared previously?"
The old Share Code will not allow Welcome Email to be imported.
This means the old Share Code will behave the way it is expected to behave.
Only the new Share Code allows Welcome Email to be imported.
What You Have To Do
If you have shared the old Share Code, you may have leads coming to you asking why they cannot import the Welcome Email. Just ask them to add a 'u' to the end of the Share Code.
If you have the old Share Code published somewhere, you may want to update the Share Code.
In A Nutshell
With these changes, it is now easier for you to share your list setup with your leads.
Your leads simply have to create a list, activate it and import YOUR Email Series Share Code. Then both the Welcome Email and Email Series will be imported.
Then they can use the 'Find and Replace' function to replace your affiliate links to theirs.

The 'Find and Replace' function in the Email Series now works for Welcome Email too.
It's like everything is now under one roof.