Take a look at the screenshot below. This is what I mean by dominating Google's first page.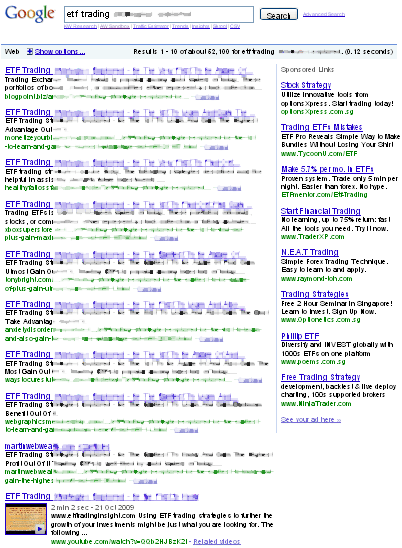 Out of 10 results in the first page, 9 are articles from the same author, syndicated on different websites.
The last result is a YouTube video, which is something Google tries to include in every result page.
In fact, for this particular search term, the 2nd, 3rd and 4th page of Google are mostly dominated by the same article.
Interested to know how it's done?
In today's blog, I'm going to show you exactly how it is done. Yes, I know exactly how it's done because I'm the person behind it.
What happened is this article is an article submitted by one of the members at ezArticleLink, our new link building system.
The article gets published in hundreds of other domains in the system, over a period of time, so as to get backlinks to that member's site.
Now, the question is, if you write an article and publish in hundreds of article directories, will you get the same result?
Not likely, because most of the articles are buried deep in the directory and more importantly, there is no backlink to those articles.
Then what makes this article different?
I'm not going to hide anything. Here are the reasons:
1) Unique article
The article has been spun according to our spinning requirement. This ensures that every published article is unique (at least in the eyes of Google).
To ensure good user experience, Google does not display duplicated contents. It will only choose the most relevant one (usually the one with the most backlinks) and show it.
For Google to show all your articles in one page, that article must be unique. So to Google, it is showing 9 different articles.
2) Highly relevant content
Google's objective is to return the most relevant webpage for a given search term.
By means of relevance, I mean…
i) The title of the webpage must be relevant
As you can see from the screenshot, all the titles contain the search keyword, except for the 9th listing, which is something else (actually an error with that site that cause it not showing the correct title and the problem has just been fixed).
ii) The content in the webpage must be relevant
In this case, every webpage you see in the screenshot above has content related to the keyword. NO OTHER miscellaneous content or randomly generate content in it.
iii) The internal links and outgoing links in the webpage must MOSTLY be relevant
Except for some standard navigation links such as home, contact, privacy etc, ALL the links in the above webpages, be it internal links or external links, are about ETF, stock or forex trading.
3) Highly relevant backlinks
This is the most important factor.
Each of these webpages you see in the screenshot above have highly relevant backlinks from other unique webpages from different domains. This is possible because of ezArticleLink's auto link building system.
When I say highly relevant backlinks, I mean 2 things:
i) The anchor texts of the backlinks contain the search term.

ii) The backlinks are from webpages with relevant content
That's all. When you have all the 3 ingredients in one place, plus if that search term isn't too competitive (in this case, there are 62k competing sites), you get amazing results like this.
This is a good example to show you how to create webpages that Google likes. Take note of these factors when you create your next webpage or website.