Everything online is becoming mobile-friendly. Blogs, websites, social networks and even Google Adsense.
Now, LeadsLeap Widget is mobile-friendly too.
What does it take to be mobile-friendly?
1) The widget and its content should be able to fit into any window dimension.
2) It should be able to resize dynamically as the window dimension changes.
In other words, the widget has to be responsive. It should be able to change and adapt accordingly.
To show you how our responsive widget works, check out this demo page:
LeadsLeap Responsive Widget Demo
Cool huh?
Other than making the widget responsive, we have also changed the design of the widget.
Below are some of the important changes:
1) New traffic stat to reflect recent ad popularity
Previously we only display the total clicks of an ad. It is cumulative. Hence old members' ads may have 1000s or 10000s of total clicks. This is helping old members to get more clicks, but it is penalizing new members who have just started.
To better reflect the current popularity of an ad, we've added the weekly hits for the ad. Prospects can now have an idea of how popular an ad is recently.
To give you a better idea, here's a picture showing the difference.

2) A header to let prospects learn more
We've also added a header with a question-mark icon that people can click to learn more about the widget. Below is the into message that will be shown when someone clicks on the question-mark icon.

The intro message serves two purposes:
– to explain what are the links.
– to encourage your visitors to join you as a traffic partner.
3) You have full control on the look and feel of the widget
The last change that I want to highlight is the widget setup page.
Previously you can only change the color and border settings. Now you have control over almost everything.
Don't like the traffic stats? Just hide it.
Having a dark background on your website? No problem.
Below is what you will see when you go to the widget setup page now: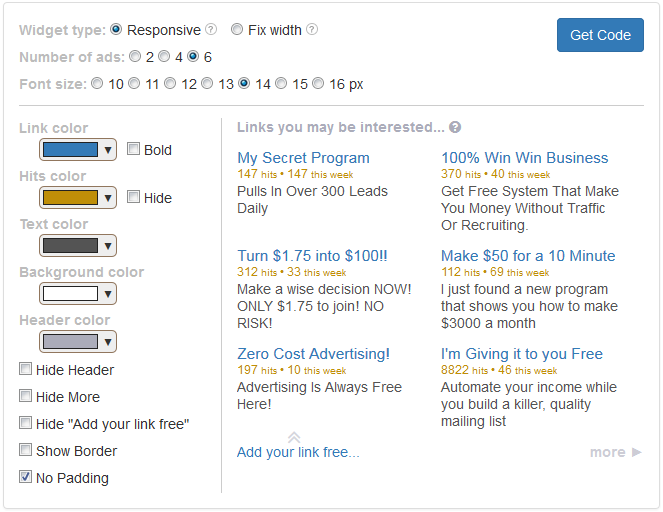 What Should You Do Now?
If you have LeadsLeap Widget on your website, take a look at it and see if you like the new look.
Your current widget is NOT responsive. It is based on the width that you've chosen last time. The color scheme is also based on the color scheme you've selected previously.
If you like the current look, leave it. If you prefer to upgrade it to the new responsive widget, just go to the widget setup page, get the new code and replace the old one.
With the new widget, we are now ready for more exciting development. Look forward to it real soon!