Many members ask about conversion tracking using The Real Tracker. Now you have it!
But before showing you how our conversion tracking works, let's discuss about the limitation of conversion tracking.
To make conversion tracking possible, you need to add a small tracking code to the product's confirmation page.
This is easy if you promote your own product. But if you are promoting an affiliated product, most of the time, you can't add such a tracking code.
Alternative?
An alternative is response tracking.
The way response tracking works is by measuring the onscreen activities, such as clicking a link, playing a video, filling a form etc.
Response does not equate to conversion. But at least you know that the traffic that you have received is exploring your ad, instead of simply 'looking'.
The advantage of response tracking is that it can be measured automatically. You do not have to add any special code.
Which tracking is better?
It doesn't matter.
We make BOTH available to you!
An overview of our Response and Conversion Tracking feature
If you view your tracked links now, you will see 2 new parameters – Response (arrow 1) and Conversion (arrow 2).

Response tracking is automatic. You don't have to do anything.
Conversion tracking, however, will not be possible until you add the conversion tracking code (see arrow 3).
How To Activate Conversion Tracking
1) Click the button shown in arrow 3 (see the image above). You will see a code similar to the one below.

2) Copy and paste it anywhere within the html code of the product's confirmation page, such as the product download page or the opt-in confirmation page.
That's it!
How Conversion Tracking Works
When a visitor visits your tracked link, that visitor will be tracked from then on.
If he/she eventually reaches the product's confirmation page, the little code that you've added will send a signal to our server. The system will then know that the visit has resulted in a conversion.
Charting For Response And Conversion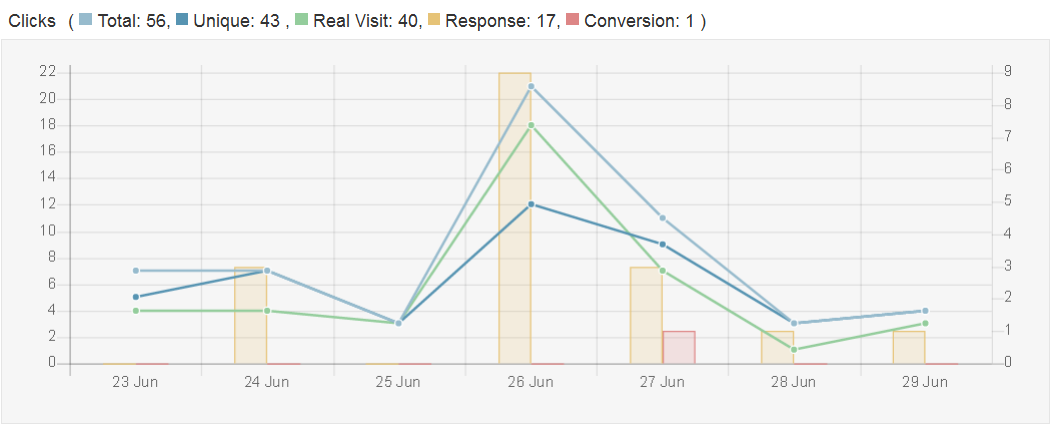 Response and Conversion are added to the traffic chart as a histogram. They have a separate scale on the right.
Reason?
Sometimes you may have thousands of traffic but just a few response and conversion. If we put both charts on the same scale, you can hardly see the response and conversion chart.
By separating the scale and representing them in the form of histogram, you can easily see which date results in a response/conversion.
Detailed Stats By Traffic Source
We used to show the traffic source in a pie chart. I find it quite redundant.
Now, we show the traffic source in a table, with a breakdown of the traffic, response and conversion details.

You can sort the table and easily see which source gives you the most response or conversion.
In this update, I've only explained the changes made to T.R.T. Links. Similar changes have been made to T.R.T. Rotators. You should be able to understand those changes as you see them.
That's all for today's update.
Let me know what you think about these new features in the comments below.