Nowadays, whichever social site you go, the first thing you're asked to do is to import your email contacts and tell your friends about that site. Isn't it nice to implement that feature on your site too? That's what I was thinking. Hence I started looking for a contact importer script.
Then I found Super Tell A Friend Script. I bought it and implemented it on my new site. If you are looking for such a script, read my review below.
The Order Process
You may wonder, what's there to talk about the order process?
Indeed it's just the usual ordering process, except delivery is not automatic! After making the payment, I was brought back to a page that says the script will be emailed to me within 24 hours.
Come on, I was all warmed up to implement that script, but now I have to find other stuff to occupy myself. "You must be kidding!" I thought.
Anyway, the delivery was fast. I got the script within an hour.
One thing I must say is the support is good. I emailed them a few times while setting up the script and they were fast in replying.
Unboxing The Script
My first reaction when I unzipped the script was "Wow, so many files!". I was expecting something simpler.

Nevertheless, the installation process was rather straight forward. Simply create a new folder in the server and upload all the files. You will need some knowledge in database creation. Otherwise, just get their support to install for you free.
The most tedious part of the installation process is not the script but getting the API IDs from Yahoo, Google and MSN. These IDs are necessary so that your website can be authorized to retrieve email contacts from the users' accounts. Following the instructions carefully, I managed to get everything done in less than 30 minutes.
Implementing The Script
The script comes with 5 modules:
– Contact importer (which is the main thing I wanted)
– Manual email invite (where users can manually enter email addresses)
– CSV file importer (where users can import a csv file containing a list of email addresses)
– Mass instant messages on Yahoo Messenger
– Social networks website sharer
It also has lots of other features, including
– invite to unlock a page
– invite and get rewards
– follow-up email reminders, etc
I am only interested in the Contact importer and Manual email invite. Hence I disabled the other modules and features.
Once the set up is done, you now have the inviter page ready. There are 2 ways to integrate the inviter page to an existing website.
1) By opening the inviter page in an iframe.
2) By opening it in a popup window.
My advice is to open the inviter page in a popup window, rather than in an iframe. I spent hours trying to put it in an iframe, only to give up the idea. The problem with iframe is the dimensions are fixed. During the email importing process, many emails can be retrieved and the iframe will become too small. Scrolling the small frame up and down is cumbersome. Trying to create a dynamically resizable iframe using javascript was a nightmare because of different formating issues. Finally I simply added a button to open the inviter page in a new window.
Below is the final implementation. Simple and hassle-free.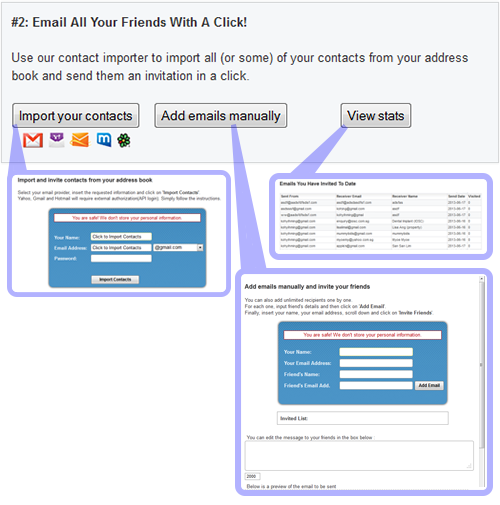 All in all, I'm happy with the script and I will recommend Super Tell A Friend Script to those who want to implement email importer and tell-a-friend system on their websites.