If you are selling something online, do you simply put a price tag to it and wait for someone to buy?
You may say no, but I've seen too many people doing that. Yet they are wondering why no one is buying their products/services.
In online selling, or any kind of selling for that matter, there are certain sales tactics you can use to boost sales. There is no need to reinvent the wheels. Today we will look at 8 of them.
1. Price Discount
Probably the most common strategy is price discount. I'm sure you are familiar with price discount. The only thing I want to highlight here is don't just sell a product/service. Instead, you should try to sell a package, so that the overall value looks higher.
Say if you are selling an ebook for $10, don't just sell that ebook. Bundle it with lots of other complementary products that you can find or create, so that the whole package has a perceived value of hundreds of dollars. You want to make your visitors feel stupid to reject the offer.
Price discount is often combined with other strategies described below.
2. Free Gifts
If you are tight on pricing, or you don't want to create a price war, the next strategy you can use is to offer free gifts.
Such a strategy is often seen by affiliate marketers when promoting affiliated products. Since affiliate marketers can't give a direct discount to the product they are promoting, what they do is they bundle the product with a bonus product. Whoever buying through their referral link will be able to receive the bonus product for free.
3. Time Sensitive Offer
In addition to having a price discount and/or free gift, you can further push sales by adding an expiry date to the offer. It is commonly known as a time-sensitive offer.
You can set an actual date when the offer will end, or you can just say, "It is a limited time offer. We may end the offer any time."
4. Limited Offer
Besides limiting the time, you can also limit the product or freebie. For example, you can have an offer where the first 50 buyers will receive a special free gift.
You can also limit the product itself. This is often seen in membership sites, where the number of members are capped at certain number.
5. One Time Offer
One time offer is an offer that is presented to the prospects only once. If they miss it, they will miss it forever. Such offer is usually presented after an opt-in page or as an upsell after the first sale is completed.
6. Escalating Pricing
In this sales tactic, the price will increase after certain number of products are sold. The marketer will usually have a table showing the price distribution. Below is an illustration of what I mean.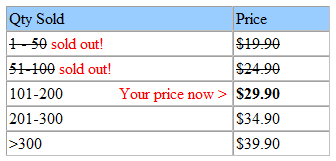 7. Purchase With Purchase

In this technique, the buyer is offered an option to buy another item at a reduced price. It's something like One Time Offer. If the buyer miss the offer, he/she will have to buy the item at the full price later on.
8. Continuity Plan

The last tactic is continuity plan. The marketer will think of ways to make the buyer keep on coming back and buy more. Common methods you may have seen are coupons, points, discount voucher etc.
For example, when a buyer bought something, you can give him some eDollar, which can be used to offset his future purchase. Even though the amount may not be a lot, many buyers are likely to remember that he has some 'money' with your website and will come back to buy more whenever they need something that is offered on your website.
Generating sales is not luck. It's science. By using a combination of these sales tactics we've discussed here, it's not hard to come out with a sales process that works. Coupled with a good product and service, making money online is inevitable.