It is almost a week since LeadsLeap 2.0 beta is released.
It has been an exciting week. Basically I have been working almost non-stop, debugging, monitoring and improving the system.
My wife isn't too happy though…
Just to keep you updated on the progress, the click-through in the network quadrupled. Both Free and Pro Members should be happy with the increase in traffic.
I hope you are happy!
Earning wise, we had some hiccups on the 18th. One of you reported it and we fixed it.
Tomorrow will be another interesting day, as we will release the Weekly Revenue Share. I hope everything is smooth tomorrow. If you have been sending third party traffic to our ads, check out how much you earn tomorrow.
Today I have a new feature to announce. We call it "Credit Encashment".
As the name suggest, basically we let members convert their credits into cash.
Why Do We Do That?
3 reasons.
1. In the future, we may have members who join LeadsLeap, treating it like a PTC site.
For this group of people, they may not be interested in advertising. Instead of forcing them to advertise and having our members to view their half-baked ads, we would rather pay them.
2. Some members, especially those with a huge network, have lots of credits everyday, more than enough for their daily ad usage. To make them happy, we pay them.
3. There are many unused credits in the system by members who have gone missing in action. They look like a time bomb. We'll never know when these people will come back and mess up the credit balance in the system.
To prevent unused credits from growing infinitely, we will now set an expiry date to the credits earned. Credits will expire after 6 months since the month they are earned.
If you are an active member, it shouldn't bother you at all.
If you are advertising, your credits will soon be used up anyway.
If you have a huge downline with tons of overriding credits, you can encash your credits before they expire.
Minimum Requirement
There is a minimum requirement of 50 credits before you can encash.
The conversion rate is about $0.30 for 50 credits. (This amount may vary, but we try to stick to it. Also, the conversion rate will reduce if you suddenly convert a large amount of credits. We do this to prevent system shock.)
Is 50 credits a lot? Not really.
If you merely earn 2 credits a day, which only takes you 1-2 minutes, it will take you 25 days to earn 50 credits.
I am talking about the bare minimum.
Credit Expiry Notice
You will get a notice in your Daily Email 1 month before any credit expires. That should give you enough time to take action.
No active member should let the credit expire without at least encashing it.
How To Encash?
If you go to your member's area now, you will see a new green button like the one below: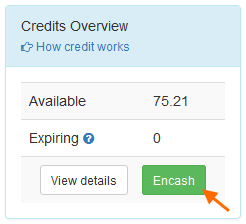 Click on that button to encash.
Quick Reminder
We will be running a Launch Contest from 1st Feb to 29 Feb. A total of $2600 cash prizes to be won!
You have slightly more than 1 week to prepare for this contest.
Hope to see your name in the Leaderboard!