One of the most requested features from our members is a link rotator. Now you have it!
Today I'm thrilled to release a powerful link tracker, with rotation and cross promotion capabilities.
We call it…  The Real Tracker!
"Booooooo!!!! We have Google Analytics, who needs another tracker?"
Yes, GA gives you many stats. But it has limitations.
1) You can't use GA to track a website that you don't own, such as when you are advertising an affiliate link.
"Booooooo, again!!!! For 3rd party links, we already have Bit.ly."
Yes yes, I know. Let me finish my points!
2) You can't use GA or Bit.ly to track whether a visitor is REALLY surfing your website.
"B……." Wait!

I know, GA can track visit duration. But it does so by measuring the time difference between pageviews.
If someone just visits a single page and leave without clicking, no time difference will be recorded.
Also, how do you tell if visitors are simply clicking your link or really checking out your webpage?
That's what The Real Tracker is capable of!
How The Real Tracker Works?
The Real Tracker monitors browser's visibility as well as user activities.
If someone loads your link and then works on something else, or if there is no user activities for 10 seconds, the user is considered idle.
With The Real Tracker, you can now get a chart like this for your marketing campaign.

Create Source Tracker On The Fly!
Most third party trackers tell you where the traffic comes from by tracking the referrer domain.
The Real Tracker moves one step further and lets you create source tracker on the fly!
For example, let's say you have a tracking link like this:
trackr.leadsleap.com/rk4g9psw
When posting this link to, say a thread (with id 1109948) in Warriorforum.com, you can use
trackr.leadsleap.com/rk4g9psw/wf-1109948
If you post in another thread with id 1099721, you can use
trackr.leadsleap.com/rk4g9psw/wf-1099721
Similarly, if you are tracking your email responses, you can use different tracking source for different email, for example
trackr.leadsleap.com/rk4g9psw/email-day1
trackr.leadsleap.com/rk4g9psw/email-day2
For links without any tracking source, the system will fall back to the referrer URL, which will be auto-generated if available.
This is an example of the source chart you can get: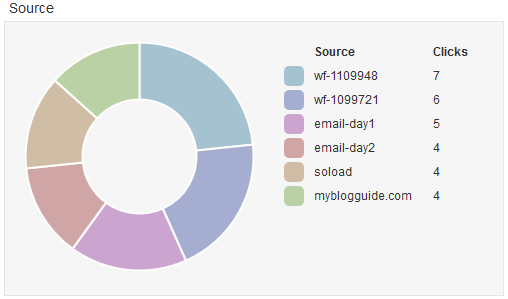 In addition to that, you can filter the stats and look at the surfing duration for each source!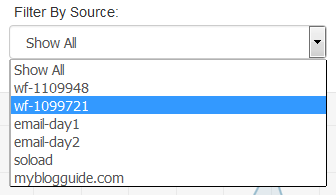 Now you can easily find out which traffic source is sending you 'clickers' and which traffic source is sending you 'visitors'.
Is The Traffic Unique?
When it comes to advertising, we also want to know whether the traffic we get is unique.
A chart like this will be useful.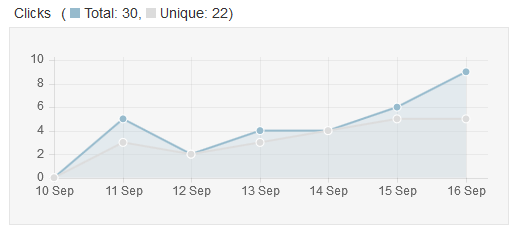 The Real Tracker tracks the uniqueness of a visit by using a 24-hour cookie.
Cross Promotion – Get More From Your Promotion Effort
If you have been using our Advanced Link Cloaker, you should know about the ad bar feature.
It is a good feature that allows you to promote another offer at the same time.
The Real Tracker 'inherits' the ad bar system, but this time, we make it look more cool and mobile friendly.
Here is how the new ad bar looks like:

You can set the ad bar at the top or bottom.
To encourage more clicks, you can add a 20-second countdown. After 20 seconds, the offer will be gone.
Clicks are tracked and stats are presented in similar charts like those above.
Weighted Link Rotator, Super-charged With T.R.T. Tracking System
What is T.R.T? Well, it is The Real Tracker in short. I made it up. Don't laugh!
Our link rotator allows you to rotate unlimited number of tracked links, with different weightage.

Similar to tracking links, you can add a source tracker to the rotator links on the fly, for example
trackr.leadsleap.com/r/fg8pr5sw/soload1
trackr.leadsleap.com/r/fg8pr5sw/soload2
The source tracker in the rotator will automatically be tracked in both the rotator and link stats.
Custom Links
If you are a Pro member, you can create custom links.
Instead of a link that looks like this:
trackr.leadsleap.com/rk4g9psw/
You can customize the link to anything you like, for example:
trackr.leadsleap.com/my-special-offer/
Of course, you can then add source trackers like this:
trackr.leadsleap.com/my-special-offer/for-fb-friends
trackr.leadsleap.com/my-special-offer/for-warriors
trackr.leadsleap.com/my-special-offer/for-subscribers
Clean Layout. Clutter Free.
Unlike many link trackers that clutter the browser with tons of frames and ads, The Real Tracker is clean and virtually ads-free.
Your visitors will see your website in full browser window.
After 20 seconds, there will be a small widget sliding out from the left, just like our ad viewer.

Visitors can hide the widget if they want to. If they click the ads in the widget, you will earn credits. If they join LeadsLeap, they will be in your team.
It is the BEST way to earn credits and build leads on autopilot!
If an ad widget is inappropriate, you can disable it by setting the widget delay to zero.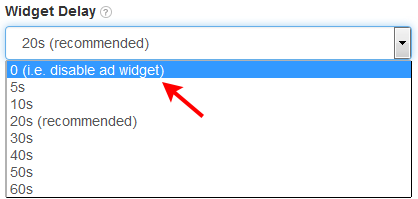 Easy Set Up And Management
1) Link Management
You can add tags to each link and then filter the links by tags. This feature will be useful when you have lots of links to manage.

Tagging is as easily as clicking an existing tag. To unselect, just click again.
2) Adbar Management
In our old link cloaker, managing the adbar is a pain. You have to go into every link to change it.
Now managing the adbar & link relationship is a breeze!
In the Adbar Manager, you can add an adbar to all or a selected group of links, replacing the old ad bars if necessary. Simply tick and submit.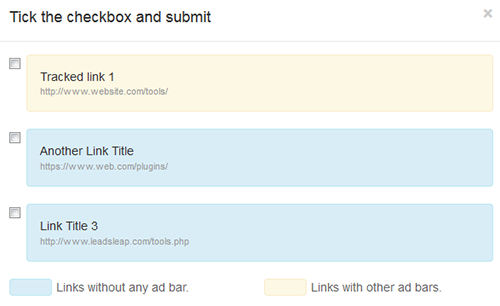 3) Rotator Manager
Similar to the Adbar Manager, you can mass-manage the rotator & link relationship with a few clicks.
Changing the rotation weightage is also just a click away.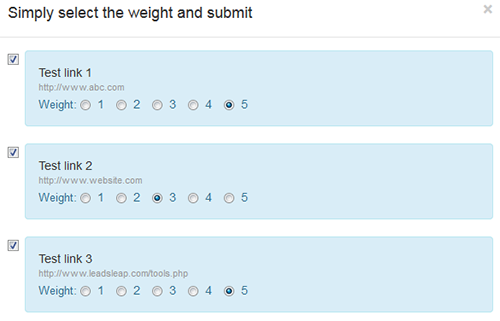 I have only given you a brief overview of what The Real Tracker can do. You really have to try it to see its full potential.
Check out The Real Tracker now. I believe you'll like it as much as I do.
Don't forget to share your comments below. Your feedback is our motivation!