Finding free MLM leads or business opportunity leads remains one of the challenges among internet marketers. And LeadsLeap is set out to help you on that.
For those who don't know, LeadsLeap is a free leads generation system that allows you to build leads and advertise for free in our network.
If you are a LeadsLeap member, have you ever wondered, who is clicking your ad?
In our blog discussion today, I'm going to bring you to our back-office and show you some statistic of the leads that we send to you.
We did a similar study back in July but over the past 5 months, we've grown and it's time to revisit the stats again.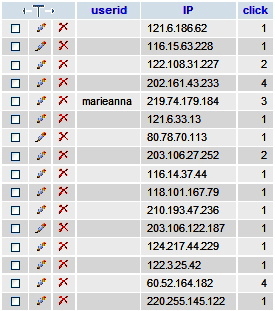 What you are seeing above is a screenshot of one of the tables in our database. This table records the number of clicks received from a particular userid and IP address.
Of course, this screenshot doesn't show all the records. I just want to give you an idea of how I gather my stats.
For rows with a userid, it means the click is either by a LeadsLeap member or someone referred by the member. For rows without a userid, it means the click is from a non-member.
When I sum up the results over 24 hours, this is what I get:
Members Referred Clicks = 3074
Non-members Clicks = 7368
Total number of clicks received = 10442
From this study, we can make the following conclusion:
1) LeadsLeap generates about 10,000 leads for our members everyday.
2) 70% of the leads are non-members from different IP addresses.
Compared to our statistic in July, the number of non-member clicks have jumped by 300%!!
If you are a LeadsLeap member, this is a good news to you because you get to share the leads that we bring to you.
If you are not a LeadsLeap member yet, and are looking for free MLM leads or business opportunity leads, join us now and start posting your ad in our network today!