I recently (not so recent actually, about 3 months back) discovered a truly one way link building service that works like a charm and I am excited to share it with you.
Why one way link building?
You should know that one of the best ways to get traffic is by getting many top keyword rankings in the search engines. To get a top keyword ranking, you need to have good one way links from different websites linking to your keyword page.
That's why one way link building is one of the most important tasks in search engine optimization.
How to get one way links?
About 3 months back, I came across a one way link building service called LinkVana.
How LinkVana Works?
In simplicity, LinkVana allows you to submit short articles (100 words) with your anchor links in them to a network of blogs. All the blogs are on different IP addresses with Page Ranks.
There is no limit on the number of posts (and thus one way links) you can make. Technically speaking, you can have hundreds of one way link to any webpage you like, including your Squidoo page.
So if this service really does what it claims, LinkVana is going to be a Link Nirvana!!
And it IS a Link Nirvana!! Let me show you……
The most honest LinkVana review
Here was what I did 3 months ago to test this one way link building service:
I have a poor-performing 40-page Adsense website and it was generating about $20 Adsense income a month. (See my May earning)

I posted 40 100-word articles to LinkVana, each article link to one of the pages in my 40-page website. In other words, I submitted 1 post for every page of my website. I did it on the 5th of June 2008.
Please note that LinkVana will not post all the links at the same time. In my case, I set the system to post 1-3 links a day. So it took the system about a month for all the links to be posted. Yet, I was already seeing immediate result in June.
See my June earning from the website…

All the 40 posts were completed in June. In July, my Adsense earning from this website exceeded $100.

Ok, money aside, let's look at the traffic stat for this website.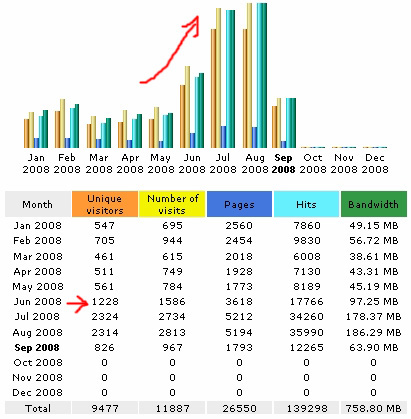 The traffic began to increase in June (the month when I started building 1 one way link to each page of my website) and remained stable in July and August.
The screenshot below shows you the top 10 search engine keywords for the website in May (before I use LinkVana) and in August (2 months after I use LinkVana).
| | |
| --- | --- |
| Before | After |
You can see that with just 1 post to each page, I'm starting to get top rankings in many keywords that I'm trying to target.
Another interesting note is that I'm starting to get more traffic from shorter keywords. Before using the service, I'm getting traffic from 4- to 5-word keywords. After submission, all my top 10 are 3- to 4-word keywords.
Frankly, I feel like hitting an SEO jackpot!
What would happen if I continue to build more one way links to this website? Remember, there is no limit on the number of links you can build using LinkVana.
I stopped my experiment on this website at this point because I wanted to post links to ALL my other websites and see if the results are similar.
I have close to 100 websites and you can imagine it will take me some time before I complete all the submissions.
I am not even half way through the work but based on the progress so far, I'm already experiencing 13% increase in my total Adsense income.
LinkVana subscription costs $147 a month. Not cheap. If not because someone I trusted recommended this one way link building service to me, I wouldn't even give it a look.
LinkVana membership is limited to only 300 members. At $147 a month, I don't think it will be taken up fast. But don't take too long to make your decision or you'll regret when the door is closed.
Special bonus for those who take action
A bonus for those who take up this one way link building service.
If you subscribe through this link, I'm going to give you my Linkvana Blueprint. In this blueprint, I will show you how I set up LinkVana for 100 websites. Doing it for 1 website is easy, but doing it for 100 websites easily will need some tricks. Once you're subscribed, simply email the receipt to support[at]leadsleap[dot]com, with the subject "My LinkVana Bonus". I will email you the blueprint personally.
Happy one way link building!